Korg USA Announces iKaossilator V2.1 iOS App and Special Half Price Sale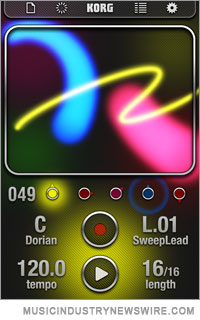 MELVILLE, N.Y. (MuseWire) – Korg has released Version 2.1 of its best-selling iKaossilator app for the iPhone and iPad. To celebrate the new release, current iKaossilator users can update at no cost. New users can purchase iKaossilator V2.1 from the App Store (inside the iTunes Store) at a special price of $9.99 USD – a 50 percent savings – until May 7, 2012. Special savings are also being offered on Korg's entire selection of top-selling apps, including iMS-20, iElectribe and iElectribe Gorillaz Edition, which are all available at 50% off their regular price until May 7th, 2012.
The iKaossilator is an expressive music synthesizer app offering 150 diverse sounds, combined with a five-part loop sequencer for creating multi-part tracks. As with all Korg Kaoss products, the iKaossilator is controlled by tapping or sliding a finger on its X-Y touchpad. This intuitive form of control is instantly rewarding, and allows users to quickly create music, regardless of their instrumental training.
New features added in iKaossilator Version 2.1 include:
* Audio Loop Import
* Seamless operation in tandem with the Kaossilator 2
* Support for "AudioPaste"
Audio Loop Import:
Users' Audio loop files can now be imported into each part of the sequencer. ** A filter effect assigned to the touch pad can then be used to vary the character of the song, similar to the function of Korg's Kaoss Pad Effects Processor.
Seamless operation with Korg Kaossilator 2:
The Audio Loop Import feature also enables closely coupled operation with iKaossilator's hardware sibling, the Korg Kaossilator 2. Loop recorder data created with a Kaossilator 2 can be imported into iKaossilator, or an audio loop created in iKaossilator can be loaded into a loop recording bank in the Kaossilator 2. Data such as loop length and BPM is retained, resulting in seamless transfer between the software and hardware.
Support for "AudioPaste":
iKaossilator now supports the "AudioPaste" function developed by Sonoma Wire Works, which allows audio data to be copied and pasted between iOS apps. Audio data can be exported from Korg's other apps such as iElectribe or iMS-20, or from any "AudioCopy" compatible app, then imported into iKaossilator with ease.
For additional iKaossilator product details, please visit: www.korg.com/ikaossilator .