Korg USA and USC Thornton School of Music Kick Off 2012 Artist Series with Adam Blackstone
MELVILLE, N.Y. (MuseWire) – Korg USA and the USC Thornton School of Music opened their 2012 Artist Series with a clinic featuring popular Musical Director and multi-instrumentalist, Adam Blackstone (Eminem, Janet Jackson, Drake, Maroon 5). Supporting the next generation of music makers, these artist events give USC music students "front row" access to today's influential music makers, who impart both practical and inspirational advice and insight into having a successful music career.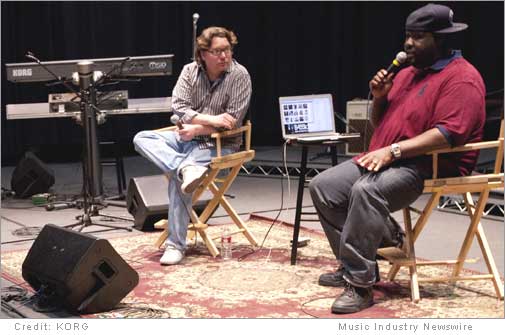 The event, attended by students from the USC Thornton School of Popular Music Performance programs, began with a brief interview conducted by Associate Dean Chris Sampson. Blackstone discussed growing up playing in church and how that, along with his jazz training, established the foundation for his musicianship. He then discussed how he broke into the profession, and shared his thoughts on what it takes to be an in-demand Musical Director.
The second half of the class was more interactive. Blackstone discussed the realities of being a bass player in the studio and in performance, touching upon the need to be equally adept at synth bass and regular bass lines, as well as having a familiarity with the right tools. He drove this point home by demonstrating his skills on Korg M3 and M50 Music Workstations.
Interested in hearing the students perform, he pulled two volunteers on stage to form a bass, drum and piano trio. They demonstrated how a rhythm section can work together and really "lock" by making us of a basic technique of matching the bass line with the kick drum pattern.
In closing, Blackstone encouraged one of the students to play an original song, and offered positive feedback about the importance of a proper arrangement for the ultimate type of performance that will be given.
About the USC Thornton School of Music:
The USC Thornton School of Music brings together a stellar faculty chosen from a broad spectrum of the music profession and musically gifted students from around the globe. Founded in 1884, and today the oldest continually operating cultural institution in Los Angeles, the Thornton School consistently ranks among the nation's top music schools and conservatories. Graduates of the school attain positions with major orchestras, ensembles, recording studios and music industry firms and perform on stages and in studios around the world.
Blending the rigors of a traditional conservatory-style education with the benefits of studying at a leading research university, the Thornton School offers students a thorough music education in a real-world context. Located at the center of Los Angeles, the school is the collegiate partner of choice for the Los Angeles Philharmonic, Los Angeles Opera, Los Angeles Chamber Orchestra and the GRAMMY Foundation, to name a few.