KORG Reduces Price on MP-10 PRO Professional Media Player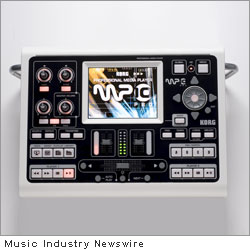 MELVILLE, N.Y. (MuseWire) – The Korg MP-10 Pro Professional Media Player is an ideal musical companion for mobile entertainers, solo keyboardists and singers. This all-in-one product brings together a reliable and easy-to-navigate performance interface with hands-on control over the most essential forms of media required by performers. This technology is now being offered in the same professional package, at a new price that suits the needs for casual performers as well.
As a media player, the MP-10 Pro features two independent media song players; each is able to play both MP3 and MIDI files* (* .mid, .mid+G, .kar, .xf, .mp3 + lyrics, .mp3+G) directly from the massive 120 GB internal hard drive. The motorized 60-mm crossfader allows for DJ-style mixing. Songs can be saved into multiple playlists, and the database can be sorted using any criteria. Playlists can be easily imported or created "on the fly." Once found, the song can be immediately sent to either of the two players. An ASCII keyboard can also be used to quickly call up songs by name.
As a MIDI instrument, the MP-10 Pro can play MIDI files from the song players. The internal sound engine uses the same EDS (Enhanced Definition Synthesis) found in the Korg M3 Music Workstation and can also be played from an external MIDI controller or instrument. The front panel offers four assignable performance pads for triggering sound effects and musical phrases. Numerous on-board effects are available for the internal players and MIDI engine. For the entertainer, singer or MC, the MP-10 Pro is equipped with a TC Helicon vocal processor offering compression, EQ and delay.
A pitch shifter, a time stretch function for changing the tempo, and an advanced vocal remover allow MP3 or MIDI files to be customized to suit the entertainer's style or different singers' abilities for karaoke performances.
The MP-10 Pro features Korg's huge color TouchView™ display for extreme ease of use. A comprehensive set of connections provides maximum versatility. In addition to the PC keyboard, MIDI and USB connections, there are two XLR microphone inputs and two USB host connections to accommodate external media. The composite video output allows users to provide karaoke lyric display, or to mimic the touch screen display on an external monitor. A headphone-based cue system is provided as well.
The Korg MP-10 Pro is now available for a U.S. MSRP of $1900 (formerly $2700).