KORG Offers 64-bit Support for Legacy Collection Software on both Mac and Windows Platforms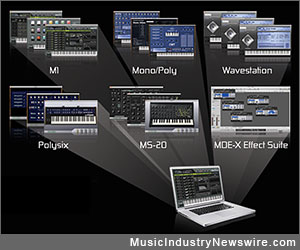 MELVILLE, N.Y. (MuseWire) – This week Korg announced 64-bit native capabilitiy for their popular Legacy Collection virtual music instruments. Korg's Legacy Collection is a complete software recreation of five legendary KORG Synthesizers – the MS-20, Polysix, Mono/Poly, M1 and WAVESTATION – complemented by the included MDE-X Effects Suite, which boasts 19 different effects algorithms.
UPDATE 10 a.m. PST 12.20.12: apparently the 64-bit updates are "not quite ready" but will be soon, according to a note from Korg's PR firm which provided the news announcement. Check the above page(s) for updates as to pending availability from KORG. -CLS
Based on popular user request, the Legacy Collection now provides support for 64-bit system architecture, to work in conjunction with 64-bit operating systems on both PC and Mac platforms.
Currently registered users of the Legacy Collection can update their software at no charge by logging in to their existing account at www.korguser.net/. New users can purchase Legacy plugins at: www.korguser.net/shop/software/.
For additional details about the Legacy Collection, please visit: www.korg.com/Legacy.