Korg expand microKEY MIDI controller series with 25 and 61-key models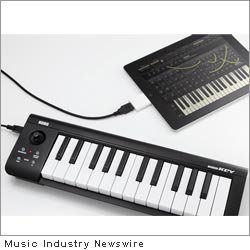 NEW YORK, NY (MuseWire) – KORG has announced new products in their MIDI controller "microKEY" line-up, with a new 25-key and 61-key model. The 61-key version includes virtual instruments plug-ins based on their existing legacy and digital collections.
microKEY are a compact family of USB MIDI keyboards featuring the velocity-sensitive Natural Touch mini-keyboard; acclaimed on instruments such as the microKORG XL and microARRANGER. In addition to the existing 37-key model, the lineup has been expanded with the addition of a supremely portable 25-key model, and a five-octave 61-key model providing the space to play freely with both hands. Bundled software and discount coupons are more generous than ever; the 61-key model even comes with a license for the Korg Legacy Collection. The microKEY is the ideal USB MIDI keyboard for the musician who wants to assemble a convenient and compact music production system.
In addition to the software lineup that had already been bundled with the existing 37-key model, synthesizer sound modules and an acoustic guitar sound module have been added, and now the 61-key model even comes with the addition of the Korg Legacy Collection of legendary Korg synthesizers in software form. The microKEY ships with the following software licenses and discount coupons so you can start making music right away.
Product Highlights
•USB MIDI keyboard – thin, lightweight, and USB-powered
•Velocity-sensitive natural-touch mini-keyboard with excellent playing feel
•Three models to choose from:
?the highly portable 25-key model
?the space-saving 37-key model
?the 61-key model for the studio musician
•Octave Shift and Key Transpose features access the full MIDI note range
•Versatile controls include arpeggiator buttons, sustain/tap button, and joystick (25 key)
•Pitch Bend and Modulation wheels add expression to your performance (37 key, 61 key)
•No need to install a driver; just connect it to your computer, and it's ready for use
•Can be connected directly to an iPad (25-key model requires the Camera Connection Kit)
•Dual USB ports; ideal for adding Korg's nanoPAD2 or other USB devices to your setup (37 key, 61 key)
•A generous assortment of licenses and discount coupons for popular software titles is included
•KORG KONTROL Editor is included
•A license is included for the "Korg Legacy Collection Special Bundle," giving you software versions of Korg's classic synthesizers (61-key model only)
•No driver installation needed – the standard USB MIDI driver provided by Windows/Mac OS X is supported.
INFORMATION: http://korg.com/microkey .