Korg announces iPolysix App for iPad, recreates classic analog polyphonic synthesizer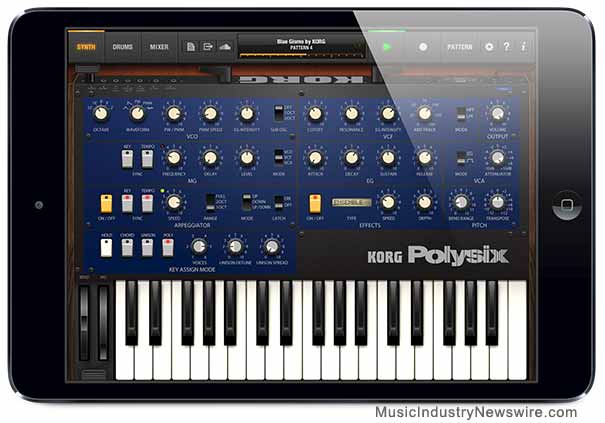 MELVILLE, N.Y. (MuseWire) – Korg has unveiled the latest in its series of musical instrument apps. The new, intuitive iPolysix app evokes Korg's legendary analog polyphonic synthesizer while taking full advantage of the iPad® interface. Up to eight instances of the synth can be used in conjunction with new features that include a sequencer, drum machine, multiple effects, Korg's acclaimed Kaoss touch functionality for intuitive note and controller entry, and a complete automated mixer.
The original Polysix, a six-voice analog polyphonic synthesizer, launched in 1981. It quickly rose in popularity due to its combination of 6-note polyphony (a generous amount for the time) and a price that was nearly half of similarly-featured products. iPolysix uses Korg's proprietary "CMT" (Component Modeling Technology) to perfectly simulate the electronic circuits of the original instrument and its distinctively deep and rich pad sounds, pulsing basses, and crisp leads. Its layout offers beginners an easy way to start sound sculpting. It has also been expanded with music production functionality for enhanced musical possibilities.
Polyseq is iPolysix's integrated polyphonic step sequencer that provides up to 64 steps for two dedicated synth instances and six poly-based drum instances – all drawing on the Polysix engine and interface. Unique features include sequence mode functionality from Korg's SQ-10 analog sequencer that allows users to play a sequence backward, or play back only the odd or even-numbered steps.
Users can call up either an onscreen keyboard for easy note entry, or two side by side Kaoss Pads that can be controlled simultaneously: one for note entry and one for control over the user's choice of synth parameters. Musical phrases can be generated simply by rubbing a finger on the Kaoss Pad. This enables professional music production and creative performances, even for those who have no musical knowledge or have never played an instrument before. These Kaoss Pads have been customized for iPolysix to allow not only single-note performance, but also polyphonic playing.
Polystage is a platform on which iPolysix users can share their songs. iPolysix users can make their songs available to other users across the globe simply by uploading their song directly from the interface. iPolysix users can listen to and rate other user's songs, or collaborate on a remix from rough ideas that have been uploaded.
Similarly, users can share their works via the popular SoundCloud feature from within the iPolysix app. SoundCloud provides a way to publish songs or to collaborate on new music with friends anywhere in the world via audio data export.
To celebrate the launch, the iPolysix app is available for download from Apple's App Store at a special price of US $14.99 until December 31st, 2012. The regular price is US$29.99.
Also in celebration of the launch, Korg has announced a special half price offer on all Korg apps from November 26 through December 31, 2012.
VIDEO