Kentucky Acoustic Rock Musician Spins Up Live 6-State Tour of… Laundry Mats?
BARDSTOWN, Ky. — An acoustic rock musician from Bardstown, Kentucky will embark on a month-long tour of laundry mats, spanning a number of cities in six states. Matthew Fogle kicks off the promotional expedition, aptly entitled "Spring Cleaning Tour '08" on Monday, March 24th in his hometown of Bardstown. The tour then visits nearly 20 laundry mats in Ohio, Indiana, Illinois, Missouri, Tennessee, and other stops in Kentucky. The tour wraps up back in Bardstown on Thursday, April 17th.
Fogle, age 25, has been playing music for over 11 years and recently went solo after playing lead guitar with several rock bands since 1998. The solo venture was kick-started last year with the release of his debut CD "On the Brink," an 11-track album with all original compositions, some written before Fogle was able to play the guitar.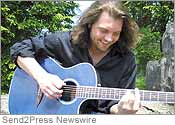 "I got the idea for a laundry mat tour last spring when I drove past one near my apartment, and there were several people inside who looked like they needed to be entertained," Fogle remarks. "I'm giving them something to listen to while they wait for their dirty socks to get clean."
The following stops are included on the tour, but Fogle says he may pick up a few more by the time it's all over with:
Mon, March 24th: Mr. Tubs – Bardstown, Kentucky; 6 p.m. (Tour '08 Kickoff!)
Tue, March 25th: Smitty's Coin Laundry – Elizabethtown, Kentucky; 4 p.m.
Thu, March 27th: Suds 'n Duds – Lexington, Kentucky; 3 p.m.
Sat, March 29th: Outer Loop Coin Laundry – Louisville, Kentucky; 2 p.m.
Mon, March 31st: Five-Star Laundromat – Florence, Kentucky; 4 p.m.
Tue, April 1st: Super Laundry (Goodman Ave.) – Cincinnati, Ohio; 4 p.m.
Wed, April 2nd: Mc Laundries – Columbus, Ohio; 4 p.m.
Thu, April 3rd: Dirty Dungarees – Columbus, Ohio; 4 p.m.
Sun, April 6th: Centerville Coin Laundry – Dayton, Ohio; 2 p.m.
Mon, April 7th: Wash-N-Glo – Indianapolis, Indiana; 4 p.m.
Tue, April 8th: Alonso Handy Wash & Video – Terre Haute, Indiana; 6 p.m.
Wed, April 9th: Weekly Wash – Vandalia, Illinois; 1 p.m.
Thu, April 10th: Wash U Inc. – St. Louis, Missouri; 4 p.m.
Fri, April 11th: Boone Cleaners (12th St.) – Murray, Kentucky; 3 p.m.
Tue, April 15th: Clay Street Coin Laundry – Nashville, Tennessee; 4 p.m.
Wed, April 16th: Laundry Basket – Bowling Green, Kentucky; 4 p.m.
Thu, April 17th: Kenny's Coin Laundry – Bardstown, Kentucky; 7 p.m. (Tour '08 Finale!)
For more information on Matthew, and to hear full audio tracks from his CD online, visit http://www.mfotb.com. You can also type in http://www.matthewfoglemusic.com.
Details for each tour stop can also be found on the website.
MySpace video can be viewed at:
http://myspacetv.com/index.cfm?fuseaction=vids.individual&videoid=28704897
[tags]Acoustic rock musician Matthew Fogle, Spring Cleaning Tour 08, music tour of laundry mats, debut CD On the Brink[/tags]