Kenton introduce USB SOLO – ultimate control for vintage synths now comes via USB
London, UK (MuseWire) – Leading electronics experts Kenton are well known for their rock-solid products that form the hub of many a recording studio worldwide. Now with the introduction of the USB SOLO they've ensured MIDI to CV conversion just couldn't get any easier or more reliable. It's been 14 years since Kenton's ubiquitous PRO SOLO – the compact, versatile and affordable MIDI to CV converter – made it possible to integrate non-MIDI vintage synths into MIDI-equipped studios the world over.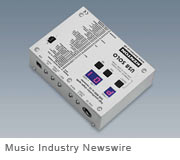 Now Kenton have made it even easier to take control of classic hardware with the arrival of the USB SOLO. It's everything (and more than) the PRO SOLO was, but now simply connects to your computer via USB.
The light-weight brushed aluminum casing is rugged enough to withstand life on the road, and yet compact enough to slip unobtrusively into any studio or live set-up. The USB SOLO MIDI-CV converter uses up to four different types of output to control analogue synths, enabling ultimate control of that classic hardware.
Who's it for? The USB SOLO is the perfect MIDI accessory for anyone needing a quick and hassle-free way to control and integrate any CV-equipped synths into their system. USB SOLO is light, compact and robust, making it perfect for both studio and live use.
Further information from www.kentonuk.com