Kenton announces Active DIN Sync Splitter box for ROLAND pre-MIDI Gear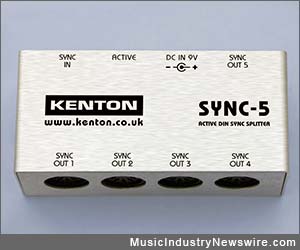 LONDON, U.K. (MuseWire) – MIDI utilities specialist Kenton is proud to announce availability of its new SYNC-5 Active DIN Sync Splitter. As implied by name, the SYNC-5 Active DIN Sync Splitter has one DIN Sync input and five DIN Sync output ports to enable users to easily connect several DIN Sync devices to one DIN Sync controlling device — without the usual problems often associated with daisy-chaining devices.
Since Roland popularised the DIN Sync interfacing standard — otherwise known as SYNC 24 — on the likes of its classic TR-808 and TR-606 drum machines, legendary 'acidic' TB-303 Bass Line, and early digital sequencers (such as the MC-4 and MC-202 MicroComposers), the SYNC-5 is primarily intended for use with such suitably-equipped, pre-MIDI Roland equipment — all of which work at 24 clocks-per-quarter note. The SYNC-5 can also work with any appropriate Korg devices at 48 clocks-per-quarter note. It cannot convert between the two, however.
Housed in an attractively finished, brushed aluminum box with black screen print, the SYNC-5 ships with an energy-efficient, switch-mode PSU appropriate to the destination country — UK, EU, US, and Australian types are available, so no battery changes required. Simply connect… and forget!
Operation couldn't be simpler: plug the supplied PSU into the SYNC-5 (which will illuminate its 'active' LED), connect the DIN Sync output port of an appropriate drum machine or sequencer to the single DIN Sync input port, and connect one or more of the DIN Sync output ports to the DIN Sync inputs of any devices to be synchronised; start the DIN Sync controlling device and any connected DIN Sync devices will play along in perfect tempo, as indicated by speed of the now- flashing LED.
It's just like being back in the Eighties again! And that's no bad thing, surely, since those still-sought-after DIN Sync devices sound better than ever in today's software-swamped musical climate. (Just remember: the SYNC-5 is not a MIDI device; neither its input or outputs are capable of handling MIDI data.)
SYNC-5 can be purchased directly from Kenton for £52.80 GBP (including VAT) here: http://www.kentonuk.com/products/items/utilities/sync-5.shtml