Kenton adds 'MIDI USB Host' to their range of unique studio solutions
LONDON, U.K. (MuseWire) – Leading electronics expert Kenton is well known for its rock-solid products that form the hub of many a recording studio worldwide. Now the MIDI USB Host joins their range of innovative MIDI solutions.
The MIDI USB Host provides a simple and straightforward means of connecting any 'Class Compliant' USB device to a standard 5-pin DIN MIDI device without the need for a computer. This enables, for example, direct connection of a USB controller or keyboard to another MIDI instrument that has only a 5-pin DIN MIDI connection.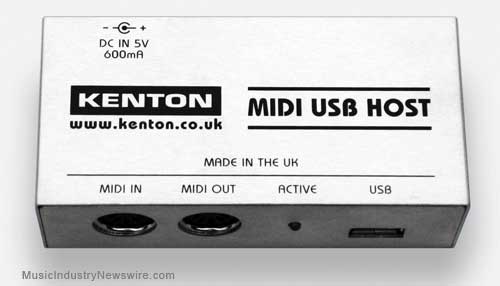 Mains powered, the compact and rugged MIDI USB Host features a USB port (USB A socket) and MIDI In and Out sockets (both on 5-pin DIN). MIDI data received at the MIDI In socket will be sent to the USB device, while MIDI data received from the USB device will be sent to the MIDI Out socket.
Additionally, the MIDI USB Host can provide up to 500mA of USB Buss power to the USB device if required.
Who's it for? The MIDI USB Host is the perfect accessory for anyone wanting to connect a USB-enabled MIDI device to a 5-pin DIN MIDI device WITHOUT having to use a computer, making the USB MIDI Host ideal for both Live and Studio use.
News source: Kenton