JoeCo and Audinate announce Dante hook up
Cambridge, U.K. and Portland, Ore. (MuseWire) – BLACKBOX RECORDER manufacturer JoeCo and Audinate, creators of the award-wining Dante(tm) digital media networking solution, have announced the start of a collaboration which will see Dante technology incorporated into a range of BLACKBOX RECORDER products.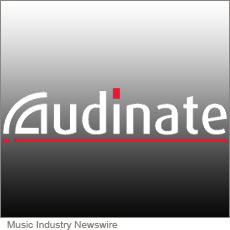 The award-winning JoeCo BLACKBOX RECORDER is the first dedicated large-scale multi-channel recorder for audio acquisition and live performance capture. The rack-mounted device enables up to 24 channels of live audio to be recorded at 24 bit/ 96kHz in BWAV format onto a regular FAT32 formatted USB2 disk drive, USB flash drive or SDHC card, without the need of a computer. Recorded files can then be transferred to any Mac- or PC-based Digital Audio Workstation for mixing and re-purposing. Multiple BBR units can be linked together for large-scale recordings.
Audinate revolutionizes the way networks are connected by transporting high-quality media over standard IT networks. Its Dante products deliver a no-hassle, self configuring, true plug-and-play digital audio network that uses standard Internet Protocols. Dante offers a market leading solution today, while de-risking the future by providing a migration path to upgrade to new standards such as the IEEE Audio Video Bridging ("AVB").
JoeCo is the latest pro audio manufacturer to announce an incorporation of Dante technology, under licence, in its products. "Successful capture and play back of large amounts of audio data in different live situations depends on sample accurate synchronisation and low latency", comments Managing Director Joe Bull. "With BBR products increasingly used in broadcast, film and TV applications as well as live sound, it has become increasingly important to find a protocol that enables fast, reliable and integrated data transfer while keeping costs and complexity to a minimum. In this respect, Dante has proven itself to be the most effective networking technology currently available and we look forward to establishing a successful long-term partnership with Audinate".
"We are pleased to have JoeCo join the list of leading audio equipment manufacturers who have already recognized the importance of Audinate's Dante digital media networking technology. This not only gives JoeCo an immediate market advantage over existing audio networking solutions, but also protects their investment with our commitment to AVB readiness within our latest products," says John McMahon, Audinate's Vice President of Worldwide Sales & Support. "In addition we believe JoeCo's Dante enabled BLACKBOX RECORDER begins a partnership for years to come and is only the first in a long line of Dante enabled products for JoeCo."
Visit JoeCo at PLASA, Earls Court, London, September 12th-15th – Hall 1, Stand J16.
www.CapturingPerformance.com
About Audinate
Audinate revolutionizes the way that AV systems are connected by transporting high-quality media over standard IT networks. Using Audinate's patented networking solution, digital media networking just got easy. Audinate's solution has been licensed by customers across the AV industry and can be found in installations and live sound applications globally. Audinate is a Promoter Member of the AVnu Alliance(tm). Audinate offices are located in US and Australia.
Visit http://www.audinate.com/for the latest news and information on the company.
About JoeCo
JoeCo was established in 2007 by Joe Bull, former owner and Managing Director of SADiE. Based near the beautiful university city of Cambridge in the UK, the company's research and development activity has focussed on its innovative BLACKBOX RECORDER for capturing live multi-track performance. JoeCo is currently represented in over 30 countries via a network of international distributors.