Jason Aldean Taps Sparkart as Web Partner
NASHVILLE, Tenn. (MuseWire) – Multi-platinum country rocker Jason Aldean has partnered with Sparkart Group, Inc., an Oakland-based full-service independent digital agency, to develop, design, and manage the official Jason Aldean online portal, www.jasonaldean.com, which launched today. Aldean joins Sparkart's roster of music clients which includes Evanescence, Janet Jackson, The Killers, and Carrie Underwood, among numerous other big acts.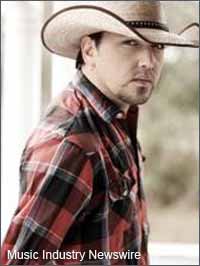 The unique services Sparkart provides include web design, development, branding, and digital marketing, all in conjunction with their proprietary Clique Tools software. A powerful, creative-friendly platform, Clique Tools has been designed to support functionality, such as social networking features, e-commerce, and content management.
After selling three million albums, Aldean's new single "The Truth" is the follow-up to two consecutive GOLD certified and multi-week No. one hits "She's Country" and "Big Green Tractor" off his top selling album WIDE OPEN. Aldean's new site platform capabilities have been launched as he prepares for the second leg of his record breaking headlining WIDE OPEN arena tour in 2010.
"It's so cool that I've been able to team up with Sparkart," said Aldean. "I really want to make my fans' online experience reflect what we're all about…so bringing an exciting place to connect off-stage is exactly what I was looking for."
Aldean's account will be supervised by Ryan Bitzer, Sparkart Nashville's VP of Business Development, who joined the company in August to launch and run Sparkart's Nashville-based division. Bitzer previously managed the web presence and marketing of Tim McGraw and Julianne Hough at rpm management.
On the Aldean partnership, Bitzer remarked, "Jason is following the suit of many powerhouse artists today who want to take control of their digital business growth. But more than anything, he wanted his site to be a fun experience for his fans, easy to navigate, with the latest online tools available. We custom-developed a streamlined platform that will create just that, and serve as an all-access pass to his site to include an official store, and social network. His fans should feel right at home and want to come back and visit often to interact, purchase concert tickets and merchandise, and get up-to-the-moment news and entertaining content."
Ryan Bitzer can be reached at ryan@sparkart.com or 615.967.7010.
About Sparkart Group, Inc.:
Founded in 1999 and based near Silicon Valley in Oakland, California, Sparkart is the leading independent interactive technology firm which helps music artists and entertainment brands promote awareness, manage and create revenue streams, and design and produce Web sites. The company's clients include Bon Jovi, Evanescence, Janet Jackson, The Killers, Metropark, Ultimate Fighting Championship, and Carrie Underwood, among hundreds of others. Sparkart's music clients alone have sold nearly half a billion records. For additional information, please visit www.sparkart.com.

Media contacts:
(Sparkart): Jim Havey, Jim Havey PR, 646.554.5519 or jhavey@jimhaveypr.com
(Jason Aldean): Mary Hilliard Harrington, The GREENROOM, 615.242.7444 or MaryHilliard@thegreenroompr.com .