iZotope's New ALLOY Plug-in Introduces a Unique Take on Six Essential Mixing Tools
CAMBRIDGE, Mass. (MuseWire) – ­ iZotope, Inc., a leading innovator in audio signal processing, announces Alloy, a new audio plug-in that combines six essential sound shaping tools into one integrated interface. iZotope's award-winning Ozone has become an industry standard for audio mastering, and now Alloy brings the company's expertise into the realm of mixing with completely new audio effects and workflow features designed for track and bus use. Alloy is designed for any audio mixing application from professional recording and post-production studios to the home studio, and its uniquely configurable interface helps pros work faster while giving less experienced users simple starting points for mixing.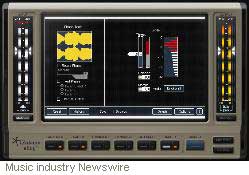 "iZotope Alloy brings the sound quality and unique features you expect from iZotope to your tracks and busses," Explains Nick Dika, product manager for Alloy, "It would have been easy to make 'just another channel strip', but instead we've designed Alloy to be a new class of plug-in, that includes forward thinking new features and brings essential tools for mixing together in a unique new way."
Alloy includes six modules: Equalizer, Exciter, Transient, Dynamics, De-Esser, Exciter, and Limiter. Over 150 "MacroPresets" combine Alloy's modules into custom configurations for specific mixing situations, and each preset has a custom Macro layout showing the user simple, useful controls for the task at hand. Advanced users can build their own layouts and move modules around in the signal chain to customize the plug-in.
Sonically, iZotope Alloy combines the precision of digital processing with the subtlety and character of analog hardware. The Exciter's Harmonic Scaling technology lets users blend between different types of harmonic saturation, from Tube to Tape to Transistor, to add just the right amount of warmth and character to their tracks. The Compressor's program-dependant "Vintage" mode can smooth out vocals with the forgiving characteristics of a classic optical compressor, or slam drums when more aggressive settings are dialed in. The Dynamics module also features two stages that can be used to create parallel compression effects, and advanced sidechaining that includes multiband and cross-band triggering, for unique ducking and gating effects. An exceptional sounding Transient Shaper can add punch to drums in single band mode, or zero in on transients in more complex material in multiband mode. Throughout Alloy, iZotope has taken key mixing tools and approached them from a new angle, making Alloy a great addition to any musician, sound designer or engineer's DAW or audio editing application. Alloy is compatible with VST, AU, RTAS/AudioSuite, MAS and DirectX hosts.
iZotope Alloy is designed to complement Ozone, especially for users who like to use the popular mastering plug-in on tracks and busses. Alloy introduces an efficient, zero-latency alternative that streamlines the mixing process and provides many unique new features designed specifically for mixing not found in Ozone including De-Essing, Vintage compression, Sidechaining, a new Harmonic Scaling Exciter, Transient Shaper, custom MacroPreset layouts and more. iZotope is also offering crossgrade pricing from Ozone to Alloy. Ozone customers can find their discount codes for Alloy by logging into in to their accounts at http://www.izotope.com.
Price and Availability: Alloy is distributed by iZotope and is available at authorized retailers for $249 MSRP.
About iZotope, Inc.
iZotope is a research-driven audio signal processing company based in Boston, Massachusetts. Its hardware products, software products, and audio technology are used by millions of people in over 50 countries, from hobbyist musicians to GRAMMY Award winners. iZotope focuses on developing innovative audio technology for professional and consumer applications. This core technology is presented to customers in its award-winning product line and through its extensive licensing program, which now includes an iPhone middleware program.