iZotope Releases Iris – New 'Spectral' Manipulation, Visual Instrument Music Synthesizer
CAMBRIDGE, Mass. (MuseWire) – iZotope, Inc., a leading innovator in digital audio signal processing, has released iZotope Iris, a new concept in sound design and sample manipulation in the form of a "visual instrument." Powered by iZotope's award-winning visual feedback technology, Iris lets you unearth a world of sounds you've never heard before.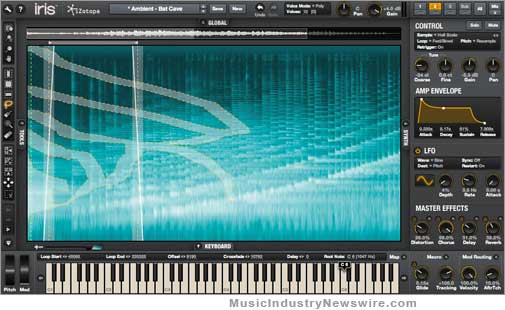 Delve into Iris's spectrogram to extract, layer, manipulate, and discover new sounds from within any audio file. With extended synthesis features, hundreds of presets, and 4GB of source material, Iris is an impressive tool for sound design, musical inspiration, and sonic experimentation.
Iris Key Features:
Discover what's hidden: Bring any audio file into Iris and isolate the most interesting spectral portions with a comprehensive set of easy-to-use selection tools. Play your completely custom sound instantly from any MIDI controller.
Become a mad sonic scientist: Create new textures and dramatic soundscapes by layering multiple sounds from similar or completely diverse audio sources.
Stay musical: Rely on intelligent root note detection to help shape musical material from noise, ambient textures, and soundscapes, then use advanced controls to tweak, modulate, and add effects to taste – all powered by iZotope's award-winning DSP.
Start playing immediately: A world of sound design is at your fingertips, with hundreds of presets from world-class sound designers and 4 GB of audio samples, including recordings of insects, animals, machines, vintage synthesizers, musical instruments and much more.
Even More Sounds:
In addition, iZotope has released two complementary sound libraries designed exclusively for use with Iris: Glass and Wood. A bundled version of Iris, Glass and Wood, Iris+2, is also available at a special price.
Glass ($49 MSRP) is a shimmering collection of glass ambiences, reimagined via Iris's spectral selection capabilities. A lyrical study in lush chords, shining leads, and soothing basses, Glass transforms sonic experiments into accessible musical inspiration. Within the 100 patches of Glass, you'll hear exploits with bottles, mirrors, marbles, glasses, shards, and even glassblowing torches. The resulting sounds are inviting, uplifting, and unusual. This library is for players exploring original sound design in a musical and meaningful context.
Wood ($29 MSRP) is an adventurous assortment of creatively-recorded samples, all produced from our friends, the trees. Made entirely of unusual wooden encounters, Wood fully embodies the creative potential of Iris's visual selections. From basket smashing to door slamming, from drumming on guitars to grandma's creaky deckchair, Wood pushes musical boundaries as each texture evolves. Blending dense and earthy tones into complex layers, Wood's 100 patches sound like an avant-garde composition right out of the box.
Pricing and Availability:
Iris is available now for a special introductory price of $149 through April 30, 2012, a $100 savings off the MSRP of $249.
Iris+2 (including Glass and Wood Sound Libraries) is available now for $199, a $100 savings off the MSRP of $299.
Glass ($49) and Wood ($29) are also now available for individual purchase, and compatible exclusively with Iris.
For more product information, demos, and ordering information, visit www.izotope.com/iris.
About iZotope:
iZotope is a research-driven audio technology company based in Boston, Massachusetts. Its award-winning products and audio technologies are in use by millions of people in over fifty countries, from consumers to musicians to major film, TV, and radio studios. Some of the diverse clients include musical giants like BT, Depeche Mode, and RZA of WuTang Clan; radio stations like Boston's iconic WGBH; and TV programming like CBS's Survivor, the Discovery Channel's Deadliest Catch, the World Cup broadcast, and the GRAMMY(R) awards. Through an extensive licensing program, iZotope technology is also directly integrated into products made by industry-leaders such as Adobe, Avid, and Sony; video games from companies like Harmonix and Ubisoft; as well as a growing number of mobile phone applications. For more information on iZotope products, visit www.izotope.com.
VIDEO