iSkin's New 'solo' for iPhone 3G Delivers Slim-fitting Protection
TORONTO, Canada — iSkin Inc. this month introduced its new solo bodyguard for iPhone 3G: a sleek and stylish protector that echoes the iPhone 3G's beauty in a slim, fashionable package. Featuring a stunning high-gloss finish accented with subtle curves, the solo perfectly encapsulates the iPhone 3G and delivers protection against impact, scratches, dirt, dust, and everyday hazards. This protection and design is complemented by a touch compatible clear protective screen film to guard against scratches, integrated volume and power button protection, unobstructed access to all ports and controls, and a non-slip grip surface that helps keep the iPhone 3G and users well connected while on the go. And the solo's slim-fitting design easily slides into a pocket, purse, or any other compact space.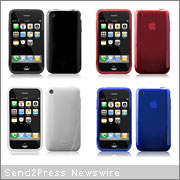 Offered in four high-gloss color finishes: Puma (opaque black), Baron (translucent red), NightCrawler (translucent blue) and Angel (opaque white), the solo is designed to give owners the flexibility of a color makeover for their iPhone 3G. In addition, its slim, sleek profile complements today's high-fashion look with added sophistication.
The iSkin solo for iPhone 3G is available today at www.iSkin.com for $29.99 (USD) and will be available at authorized iSkin resellers in the coming weeks.
For additional solo or solo+revoClip for solo ("duet") information, visit www.iSkin.com.
About iSkin Inc.
Home of the exceptionally popular "iSkin" iPod cover, iSkin Inc. develops and delivers a growing line of innovative protective solutions for the Digital Lifestyle marketplace. As a raving fan of everything cool in the world of Apple and beyond, iSkin is committed to offering consumers a stylish and impressive product selection, using the most advanced technology available.
[tags]iSkin solo for iPhone 3G[/tags]