Indie Music Ringtones Can Be Nasty Or Nice
Customized Artist-Generated Ringtones from BETA Records Connect with Music Fans via Their Mobile Devices with Content That Can Be Pretty or Pretty Wild
LOS ANGELES, Calif. — Music lovers are used to ringtones on mobile phones but music from independent artists can be difficult to find. Free software on the BETA Records web site (www.betarecords.com) is changing all that.
"We know that artists want to create and promote mobile content to their fans, and fans want ringtones and other content on their mobile devices," said Chris Honetschlaeger, BETA Records President, "and that's why we're providing the software for free."
BETA co-founder Georg van Handel points out that "Fans are going to love this new technology because custom ringtones can be available right on each artist's BETA Records page."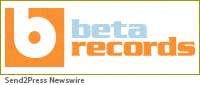 The choices for ringtones are as varied as the 40,000+ artists on the BETA web site. For example, there's a song called "Nasty" from the Phixations, but there are tunes in every style and every genre.
Sean Haden of the Phixations is excited about the ringtone technology and says he can not stop promoting his newest song and ringtone to family and fans. "I am completely blown away and didn't even know this kind of technology existed. E-mails are great, but promoting your music using cell phones takes everything to a whole new level. I urge everyone to get Nasty on your mobile phone."
About BETA Records
BETA Records is a hybrid online community that actively finds and produces, unsigned artists across all genres, then showcases them to the music industry and enables them to distribute content to friends and fans via digital channels.
BETA offers each artist a dedicated space filled with dynamically generated tools to promote personal information and to stream or download user generated media to computers, online social communities, and mobile devices around the world.
Business Development Contact: William Vablais, 760-217-5000.
[tags]BETA Recprds, ringtones for musicians, music promotion, ringtones widget, independent record label, unsigned bands[/tags]