Independent Artists Invited to Join BETArecords.com.mx Starting May 1, 2007 as BETA says 'Viva la Musica in Espanol'
Online Record Company Widens its Global Reach with Launch of BETA Records Mexico
LOS ANGELES, Calif. — BETA Records Mexico (www.betarecords.com.mx) announces additional international expansion which follows the success enjoyed by U.S. and German sites of the online record company headed by founders Chris Honetschlaeger and Georg van Handel. "Beginning the first of May, BETA Records is opening its online portal to singers, songwriters, instrumentalists and bands based in Mexico," states Honetschlaeger.
"The new BETA Records Mexico is building on our current achievements in the United States and in Germany," van Handel points out, "where we currently feature more than 65,000 independent artists on the U.S. site (www.betarecords.com) and the German site (www.betarecords.de)."
"The BETA Mexico site will be the first in Mexico to allow artists to create, host and send ringtones around Mexico," Honetschlaeger adds. In addition to their Web presence, BETA will soon be opening offices near Mexico City.
Unsigned artists who join BETA Records receive their own personal Web presence, complete with hosting of songs, photos, biographical and contact information, and a wide variety of additional features, including opportunities for networking, studio appearances, live shows, airplay on BETA Radio (www.BETA.fm), and presentation to decision-makers throughout the fields of music, motion pictures, television, radio and live venues.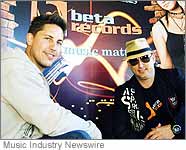 Photo Caption: Georg van Handel (L) and Chris Honetschlaeger (R), founders of BETA Records, are proud to be the online home and business location for 65,000 independent music artists worldwide.
"With each advancement in distribution and promotion at BETA Records, we're bringing independent artists closer to enjoying all the advantages formerly reserved for artists signed to one of the four major record labels (Warner, Sony/BMG, EMI, Universal)," Honetschlaeger notes.
About BETA Records:
BETA Records actively finds, produces, and showcases unsigned artists and distributes content to fans via digital channels. BETA offers each artist a dedicated online page where they can upload text, songs, and photographs as well as connect with fans via blogging, mobile and e-mailing, plus the opportunity to have fans stream and/or download music, and promote their music via ringtones. BETA Records blends virtual and brick-and-mortar approaches with 21st century technology.
[tags]online record label, BETA Records Mexico, Chris Honetschlaeger, Georg van Handel[/tags]