Improvised Guitar Music on Brian Butler's 'Axuality' Album is Aimed at the Head as well as the Heart
New Album is Designed to Help Listeners Find New Ways of Thinking
MINNEAPOLIS, Minn. — With a new genre of music called axuality (www.axuality.com), guitarist Brian Butler is composing and performing music with a lofty goal: to improve listeners' mental outlook while enjoying cool, unique guitar playing. Whether performing live or when recording his just-released album, also entitled "Axuality," Brian Butler improvises layers of sounds in order to emphasize the purity of the creative process.
"I play guitar as part of a conversation," he states, "with the listener able to 'answer' back in his or her own mind."
One of Butler's aims is to help facilitate listeners achieving a "clear mind" when hearing the music. "The high degree of improvisation makes it sound very alive," Butler notes. "People tell me this music seems to be more 'present with you' than most other tracks they hear."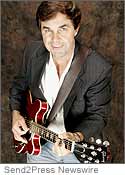 Listening to Butler's music can be a way to refresh yourself and decrease stress. There is a feeling of "floating away" or "getting lost in the sound" when playing these songs. The improvised nature of the tunes leads to a continual unveiling of the process of the artist's mind. By avoiding the repetitive nature of much of today's popular music, listening to "Axuality" can be an enlightening experience.
About Brian Butler
Having played music professionally all of his adult life, Brian Butler currently records and performs near his home not far from Minneapolis.
"Axuality" Online
The 22 tracks on "Axuality" are found on iTunes. They are also available for sale on his site along with 45 additional songs at http://www.axuality.com.
[tags]guitarist Brian Butler, Axuality album, Improvised Guitar Music[/tags]