IK Multimedia announces StealthPedal and StealthPlug with Custom Shop Now Shipping
MODENA, Italy (MuseWire) – The new Stealth CS series of mobile audio interfaces combines powerful audio interfaces with the revolutionary AmpliTube Custom Shop software. The Stealth CS series of interfaces includes the StealthPlug CS and the StealthPedal CS.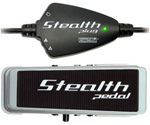 Both are extremely intuitive and transparent interfaces with near-zero latency. The A/D & D/A converters feature sample rates up to 48K, and can be used with your favorite DAW (including Pro Tools 10) or in a live setting.
AmpliTube Custom Shop
The core of the Custom Shop packages is AmpliTube Custom Shop software, IK's revolutionary tone software that allows players to build virtual guitar rigs one piece at a time with gear models from the world's top manufacturers. It comes complete with 24 pieces of gear, a digital chromatic tuner and two complete guitar/bass signal chains for mono and/or stereo operation.
You can also get gear a la carte from the top makers, Open 24/7: Fender™, Ampeg®, Orange®, Soldano®, T-Rex®, Seymour Duncan®, Groove Tubes® and more…
StealthPlug USB Audio Interface Cable
The StealthPlug CS "Custom Shop" is one of the most affordable ways to get started making guitar music on your laptop. It features the StealthPlug 1/4″ to USB cable interface, and the new AmpliTube Custom Shop software plus 50 gear credits to use in the AmpliTube Custom Shop online store.
StealthPedal USB Audio Interface and Controller
The StealthPedal CS "Custom Shop" is the next step up for mobile guitar and bass players. It features the StealthPedal wah-style usb audio interface and controller, plus AmpliTube Custom Shop software and 100 gear credits to use in the AmpliTube Custom Shop online store.
The StealthPedal serves two purposes: getting your guitar signal to and from your laptop, and controlling software knobs from the floor while you play. And all the magic happens in a nice, compact wah-style housing — something already very familiar to players.