Hendelman & Leonhart Inaugurate Great Duets Jazz Series, Jan 12 in NYC
NEW YORK, N.Y. — Jazz pianist Tamir Hendelman joins New York jazz bassist Jay Leonhart to inaugurate a new jazz series called "Great Duets" at the recital hall and piano showroom of AC Pianocraft at 333 West 52nd. St. in New York on Friday, January 12, 2007. The new series is hosted in a gracious grand piano showroom on the ground floor directly off 52nd St. where listeners can sample a little wine and cheese and listen to Tamir Hendelman and Jay Leonhart for an hour or so.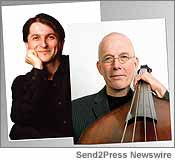 The program will include "slightly twisted and refreshed" jazz standards, originals and other musical surprises. The ongoing jazz series is funded in part by Jazz Cruises LLC.
Ray Brown of Radio Cologne has called Leonhart, "one of the great bassists of the last forty years." A first-call jazz bassist who has recorded with pop artists from Frank Sinatra and Judy Garland to Sting and Carly Simon, Jay Leonhart has also played behind, and toured with, some of the biggest names in jazz, including Duke Ellington, Tony Bennett, and Peggy Lee. Celebrating his swinging, elegant style, one critic dubbed him "the Fred Astaire of jazz."
Award-winning jazz pianist Tamir Hendelman has performed with the Jeff Hamilton Trio, the Clayton-Hamilton Jazz Orchestra, Harry Allen, Teddy Edwards, Warren Vache, Houston Person, Jeff Clayton, Nick Brignola, Phil Upchurch, Rickey Woodard, John Clayton and Barbara Morrison. He also leads his own trio.
Pianist Oscar Peterson was so delighted with Hendelman's playing that he wrote, "It was a satisfying but strange feeling to…hear a new young voice make some exhilarating and thoughtful solos in the spaces that I used to occupy…I look forward to hearing more from him."
AC Pianocraft is located at 333 West 52nd. St New York 10019. The phone number is 212-254-1840. Tickets are $20 at the door. To learn more visit: www.acpianocraft.com, www.tamirhendelman.com or www.Jayleonhart.com.
[tags]Jay Leonhart, New York jazz, Great Jazz Duets[/tags]