Haken Audio announce new firmware version for the Continuum Fingerboard instrument, version 5.50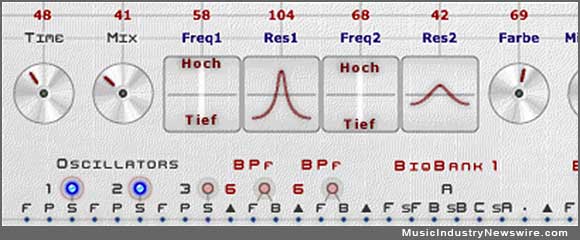 CHAMPAIGN, Ill. (MuseWire) – Today, Haken Audio announced a new firmware version for the Continuum Fingerboard, version 5.50. Among the updates, the number of "carefully crafted internal preset sounds" for the EagenMatrix has been increased by 16. Included in these new sounds are designs using the new timbre elements available in the GrainSilo.
The delays have been expanded: Delay data can be by-voice, or shared with all voices, or directly influencing a formula. This expanded control delay can be many seconds long. Nyquist filtering available on input to Delay, useful for long (subsampled) delay times. Delays now have individual taps, in addition to main delay output. This multi tap output is good for chorusing, as in the new sound Waterphone Strings
New oscillator integrator: The new intergrator available makes it possible to recreate the spectrum of a sawtooth oscillator, which is useful for synthetic timbres (photo above).
Master section: There are now two convolutions now instead of one. One is before the reverb, and the other is after. And there are more response choices for convolution, with the ability to morph between up to 4 of these responses.
AUDIO DEMOS:
Version 5.50 firmware is available for free in the resources section of the Haken Audio site at http://www.hakenaudio.com/ . Before using the new firmware check out the newly-revised user guides for the Continuum, EaganMatrix, and CVC.