GOOG: Music Pioneer and Inventor Bob Moog's Birthday Garners Google Recognition and Industry Support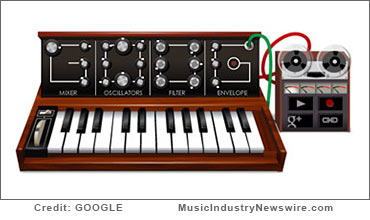 ASHEVILLE, N.C. (MuseWire) – The Bob Moog Foundation announced today that it is being joined by supporters worldwide in their celebration of the anniversary of the synth pioneer's 78th birthday. Global technology leader Google released their latest doodle, an interactive, synthesizer-based, playable logo ("GOOG"), which honors Bob Moog's inventions. The Moog Doodle can be played using a mouse or by typing to make nearly limitless sounds. Keeping with the theme of 1960s music technology, a keyboard is patched into a 4-track tape recorder allowing the play back and sharing of songs via short links.
The doodle can be viewed and played at www.google.com.
Google software engineer Joey Hurst explains the impetus behind the Moog doodle: "With his passion for high-tech toolmaking in the service of creativity, Bob Moog is something of a patron saint of the nerdy arts and a hero to many of us here at Google."
BMF Archive and Education Specialist Marc Doty has posted a 15 minute video demonstrating the various parameters of the doodle synthesizer. His video has over 8,000 views and has been picked up by Mashable and the Washington Post. The video can be viewed below, this page.
To promote the incredible doodle tribute, the Bob Moog Foundation is hosting a contest on the home page of its website. Music fans from around the world can share their musical creations in the comments section of the blog on the home page of www.moogfoundation.org. A winner will be chosen and awarded Arturia's Dr. Bob's Collector's Pack, which includes award-winning Minimoog and modular Moog software (valued at over $300).
Furthering the celebration, Moog Music, Inc. will donate 50% of all online clothing and merchandise sales on May 23rd to the Bob Moog Foundation. For every $350 raised, the company will also donate one Etherwave Theremin to the Foundation's educational initiative, Dr. Bob's SoundSchool. This promotion includes their brand new line of product-inspired apparel boasting graphics bold enough to induce a geekfest for synth enthusiasts everywhere. Moog instruments are not included in the annual event.
Moog Music clothing and merchandise can be purchased from the company's online store: www.moogmusic.com/products/clothing and www.moogmusic.com/merch.
Spectrasonics, creators of the much heralded Omnisphere "soft-synth" and creators of the Bob Moog Tribute Library, have added to the already robust library of 700 sounds another 78 in recognition of Bob's birthday. Spectrasonics continues to be one of the Foundation's greatest contributors to continuing the legacy. Visit http://www.spectrasonics.net/products/tribute/ for more information about the BMF Tribute Library.
In the realm of esoteric electronics, starting on May 23rd Hollow Sun Records and electronica maverick Atomic Shadow are donating proceeds from the Shadow's first two albums to the Bob Moog Foundation. This tribute honors the coincidence that Atomic Shadow and Bob Moog share a birth date and a passion for innovation and music. The albums can be purchased at the discounted price of £3 for a limited time at http://www.hollowsunrecords.co.uk.
Early Girl Eatery in Asheville, North Carolina, where Moog often ate lunch, is hosting the Bob Moog Birthday Salute, honoring its hometown innovator by donating 20% of their total sales from May 23 to The Bob Moog Foundation. The restaurant is open from 7:30am-9:00pm. www.earlygirleatery.com. Marc Doty will perform three sets of live music throughout the day. Anyone who donates $1 or more to the Foundation while at the restaurant will be entered in a raffle to win various Moog-inspired items.
VIDEO