Golden Kingdom Expansion for N.I. MASCHINE touts EDM sound styles for ultra-commercial modern hip hop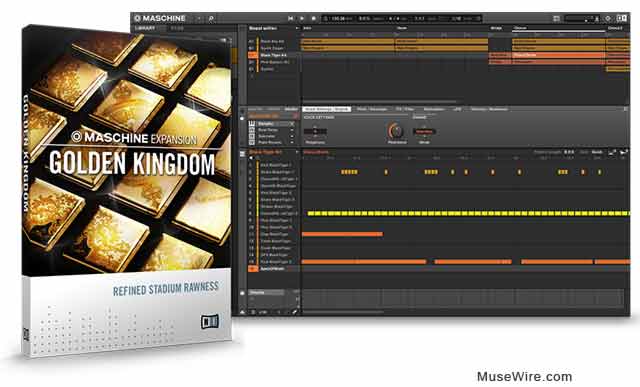 According to an announcement this week from Native Instruments, their latest expansion pack for its MASCHINE, GOLDEN KINGDOM, delivers "a wealth of sound for contemporary mainstream hip hop."
The hype describes the expansion as "sample content in GOLDEN KINGDOM combines larger-than-life drums, distorted synths, and overdriven breaks culled from southern hip hop, EDM, and cinematic scores – the elements that have made this style of hip hop a worldwide commercial phenomenon."
Exclusive new MASSIVE and MASCHINE Drum Synth presets provide producers with ready-made, genre-specific sounds that can be tailored to taste, while a new set of patterns deliver convenient starting points for original productions.
A compact version of GOLDEN KINGDOM is also available as an iMASCHINE Expansion, for creating beats on the go. Tracks can be exported to MASCHINE STUDIO, MASCHINE, and MASCHINE MIKRO for completion.
SRP (US) $49.
AT A GLANCE: GOLDEN KINGDOM (specs):
Full MASCHINE projects: 6
Included Drum Kits: 52
Drum samples: 659
One-shot samples: 107
Exclusive MASSIVE presets: 37
Total patterns: 267
Library size: 283 MB
System requirements: MASCHINE STUDIO / MASCHINE / MASCHINE MIKRO 2.3 or higher, MASSIVE (latest update).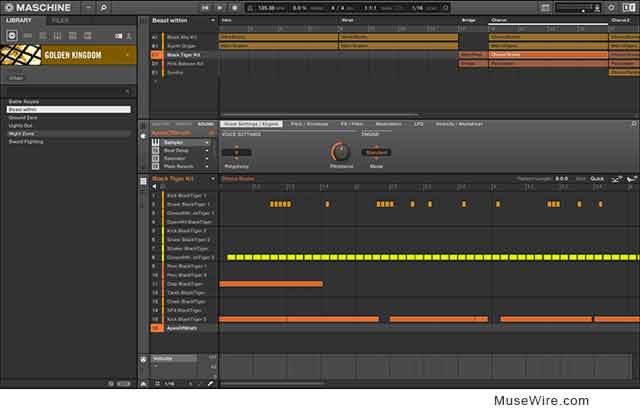 MASCHINE is Native Instruments' drum/percussion environment system which comprises both hardware devices and software. MASCHINE lets you effortlessly produce beats, melodies, and harmonies with powerful drum synths, premium sounds, an integrated sampler, and more – cutting-edge software meets intuitive hardware for ultra-smooth workflow.
More information and demo audio tracks:
https://www.native-instruments.com/en/products/maschine/maschine-expansions/golden-kingdom/
DEMO VIDEO FOR MASCHINE 2.2 (YOUTUBE):