GForce announces New M-Tron Pro Sounds 'The Streetly Tapes'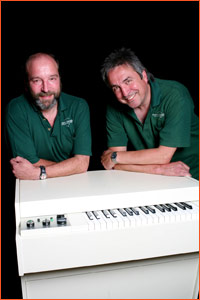 Berkshire, UK (MuseWire) – GForce Software has announced a new sound pack for existing users of M-Tron Pro, "The Streetly Tapes." According to GForce, The Streetly Tapes – Vol 1 Expansion Pack for M-Tron Pro contains 24 tape banks curated from the original EMI tape-based 'Tron archive by John Bradley and Martin Smith and made available for the first time exclusively to M-Tron Pro users.
Transferred via the Mellotronics Skellotron, this unique expansion pack provides the last word in authenticity and is an essential add-on for the award winning M-Tron Pro, the definitive 'Tron-centric plug-in instrument.
Priced at £59.99 including VAT.
MORE INFO: http://www.gforcesoftware.com/products/thestreetlytapes .
NEW SOUNDS INFORMATION:
Library descriptions by Martin Smith, Streetly Electronics.
2 Tenor 2 Alto Sax – A thrusting sax ensemble with bags of character.
8 Choir – An absolute Mellotron® classic with four males and four females battling it out at IBC studios. Used extensively by Genesis, The Strawbs and many more.
Bassoon – Dark and brooding. Instant Shakespeare. Just add water.
Biro Choir – An unreleased choir intended for the Birotron which turned up in Les Bradley's archive. Rescued from a less than perfect ¼" master, the haphazard nature of the recording gives this choir a perfection from all the imperfections.
Boys Choir – Another classic choir sound recorded simply with a handheld microphone back in 1970. It shouldn't work BUT IT DOES. Used extensively by Noel Gallagher in recent times.
Cello – One of the saddest sounds in the Mellotronic canon. Cellist, Reg Kirby refused to detune his cello for the bottom 5 notes so a double bass was used giving a knee jerk change of timbre.
Dick Strings – Viola mixed with M300A violins in just the right proportions to give you this melancholic string section.
Electric Guitar – A miked and plucked electric guitar that has a mellow bottom end and a strident top. Recorded in 1962, it is nostalgia at its best.
Flute – Strawberry Fields Forever…..forever. There is nothing more to be said!
French Accordion – Originally recorded 33% sharp compared to all the other sounds, after careful retuning it now oozes Parisian pavements and Gitanes.
French Horn – One of the earliest Mellotron recordings from the original MKI master. Warm and atmospheric.
GC3 Brass – This is the sound of George Chisholm, a well known British comedy trombonist from the '60s overlaid three times to produce a phasey trombone ensemble. George also provided rhythm fills on Trombone and Sax for the MKII.
Glocks & Tubular Bells – A nice keyboard split of crystal clear Glockenspiel and clanging Tubular Bells, ideal for Penny Lane covers.
Gothic – Les Bradley once mixed together String Section, St. John John's Church Organ and Eight Choir in a bizarre accident involving a mixing desk and absentmindedness. The result was this massive sound.
Halfspeed Brass – Mike Pinder of the Moodies would pitch down his MKII to give this effect. MKIIs are scarce so this sound was created as a homage to Mike for all to use.
M300A Violins – The sound of Barclay James Harvest and our much missed comrade, Woolly Wolstenholme. This is the sound of two violins playing in unison to haunting effect.
M400 Violins – A reworked version of the MKII violins, this was an attempt to soften the sound by use of eq. and recording off azimuth. It was used extensively being supplied with most M400s back in the day.
Mandolin – Another early recording that featured heavily on Days by the Kinks. Slightly lo-fi but none the worse for it!
Mk1 Marimba – A very dark recording; great for pads and instant atmosphere.
Mk1 Vibes – Another classic sound with just the right amount of vibrato for nice fat jazzy chords and a cool atmosphere.
Moog Brass – This is just one of many Moog sounds put out at a time when synth polyphony did not exist but a 'tron was 35 note polyphonic! It completely threw Bob Moog when he first heard his fledgling instrument playing chords.
St John's Church Organ – The monstrous sound of a wonderful organ has been a favourite for many years.
String Section – A dark mix of cello, viola and MKII violins that became a prog. rock essential. Big and moody, Tangerine Dream's Phaedra would never have sounded the same without it.
Tenor Sax – Either a Take Five or Take Cover moment! Breathy, jazzy and great for pads.
VIDEO: