Get Your Rock Face On: AMP Cosmetics Mixes Makeup with Music
OAKLAND, Calif. — AMP Cosmetics has launched a new line of cosmetics that rock. The products are dedicated to women who not only changed the sound, but the look of rock and roll. The team of experts at AMP Cosmetics has assembled a collection of high-quality products in some of the most vivid and bold colors available today.
The eye shadows are rich in pigment with a finely milled, silky texture for easy blending. The blush colors are perfect for highlighting and contouring cheeks and the lipsticks are a rich, creamy texture that are vibrant and long lasting.
Product names such as "I want Candy," and "Lust for Life" evoke images of rock and roll and beckon one's inner rock star to be released.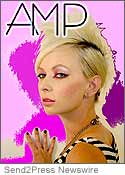 "If you are seeking nice, safe, neutral shades, we are not the line for you," Ralph R. Kacy, III, president of AMP Cosmetics, said. "We know we're not for everyone. We target our products to people who want to make a statement that says, 'Look at me; I Rock!'"
The initial product launch includes: 10 eye-shadow colors, four blush colors and eight vitamin-E infused lipsticks. Many more products are planned for early 2008. All cosmetics are made in the U.S. and are cruelty free. They are comprised of top-notch ingredients and adhere to the highest-quality standards.
AMP's packaging is sleek and sexy in black and silver hues. The company also promises more for less money. Eye-shadows, blush and lipsticks are .14 ounces a piece and each item is available for $13.
Founder, Kacy, is a Bay Area makeup artist with a passion for, not only cosmetics, but music as well. A portion of all AMP proceeds are donated to VH1's "Save the Music."
AMP's web site (www.AMPcosmetics.net) features their exclusive cosmetic line, and also promotes rising, female-based musical acts. They offer free makeup tips, and there is even a page where AMP fans can send pictures of themselves demonstrating personal creativity with AMP products.
AMP holds monthly makeup-giveaways and for music lovers, quarterly guitar package giveaways support female musicians. The next guitar giveaway is scheduled for Thanksgiving Day.
[tags]cosmetics that rock, VH1 Save the Music, AMP Cosmetics, promote rising female music acts, vitamin-E infused lipsticks[/tags]