Garth Brooks is First Country Artist to Earn SoundExchange Digital Radio Award
SoundExchange this week announced that Garth Brooks, the number one selling solo artist in U.S. history, has added another achievement to his recording career. After the country music artist amassed more than one billion performances on more than 2,500 digital radio services, SoundExchange President and CEO Michael Huppe presented Brooks with the company's prestigious Digital Radio Award. He is the first country music artist to be honored with this award.
"Reaching one billion performances is a rarified accomplishment, and it's not surprising that Garth Brooks is among the first artists to be recognized with the SoundExchange Digital Radio Award for achieving this significant milestone," Huppe said.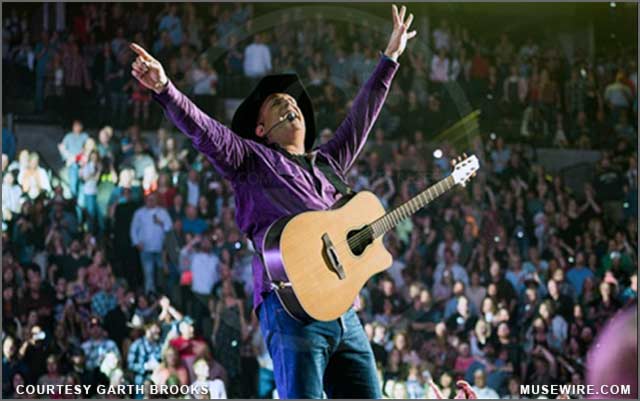 Brooks achieved this unprecedented record in digital radio while on a 14-year break from touring. In September 2015, he returned to touring and continues to break nearly every record in each market, all of which Brooks himself previously set.
Huppe presented Brooks with the award prior to his appearance at Baltimore's Royal Farms Arena, where he performed a string of sold-out shows.
Only recording artists who are registered members of SoundExchange are eligible for the award.
About Garth Brooks:
According to a wonderful biography on Rolling Stone: The most stunning success story of the early-Nineties contemporary country music boom was that of Garth Brooks. Blending rock and country influences, he is a singer/songwriter whose style owes as much to the influence of James Taylor as it does George Jones. In performances, Brooks' high-energy stage show reflects his admiration for theatrical rock bands such as Queen and Kiss. Having sold more than one hundred million albums since 1989, Brooks has easily outdistanced his competition, becoming the best-selling solo artist in history. By 1992, Brooks was a household name, and he represented a new breed of straight-talking country music heroes, defending homosexuals in song ("We Shall Be Free," from 1992's The Chase) and talking to Barbara Walters on national television about his marital infidelity. ( Read more: http://www.rollingstone.com/music/artists/garth-brooks/biography )
Learn more about Garth Brooks at: http://garthbrooks.com/.
About SoundExchange:
SoundExchange helps the music and creative community thrive in the digital age. SoundExchange is the independent nonprofit collective management organization that collects and distributes digital performance royalties to featured artists and copyright holders. Learn more at: http://www.soundexchange.com/.
Editor Note: cover image courtesy Garth Brooks – http://garthbrooks.com/.