FXpansion's Free ORCA Monosynth is now RTAS and AU Compatible
LONDON, U.K. — ORCA from FXpansion is an experimental monosynth based on detailed and accurate models of analogue synthesizer circuits and components. And now Orca is available in RTAS (Pro Tools) and AU (Mac) formats, as free downloads. ORCA was previously released in VST format.
According to the company, "ORCA is an experimental monosynth built to showcase some exciting new technology that we've been developing. Based on detailed and accurate models of analogue synthesizer circuits and components, ORCA excels at deep, squelchy basses and thick unison leads."
ORCA Engine Overview
Orca has a simple subtractive synthesis structure, being comprised of an oscillator, filter, fixed amp envelope, velocity sensitive filter envelope and an amp module. The monophonic voice engine in Orca runs at twice the hosts sample rate to reduce the aliasing caused by the non-linear analog modeling of the filter and amp modules. A voice priority of newest note is used, and every new note re-triggers the amp and filter envelopes.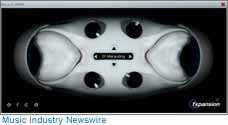 The oscillator is a fixed Saw (75% volume) plus Sub Sqr (25% volume) that has continuously smooth varying unison from 1 to 9 voices, and a detune parameter from 0 to 12 semitones. Oscillator sync is available from the mod wheel of up to 48 semi-tones.
The BLEP technique is used to bandlimit steps generated by the analog model of the oscillator. Since the oscillator is passed into several non-linear stages care is taken to have a fairly smooth time domain transition on waveform jumps, which results in less aliasing.
Orca is free to download. ORCA is available as a VST 2.4 plug-in for Windows (XP) and OS X (10.4 PPC and Intel), and can be used in other hosts (Audio Units, RTAS) via our VST-RTAS or VST-AU Adapters.
More information:
www.fxpansion.com/index.php?page=45
About FXpansion
Based in the UK in London's east end creative hub, FXpansion has been one of the industry's leading independent music software developers since 1999. FXpansion has established a growing range of innovative and original products which have consistently won awards from leading industry press.
FXpansion's mission is to push the boundaries of audio software technology and open new doors in the music production process. At the same time, we believe it is important to present accessible, creative yet logical user interfaces and to continually provide a high standard of user support.
Founded by musicians, FXpansion feel that staying connected to the engineers, producers and musicians who use our software is vital in creating the most useful and intuitive software possible.
[tags]virtual synthesizer instrument, FXpansion Orca monosynth, free VST plugins[/tags]