Four Audio to Launch New Dante Product at PL+S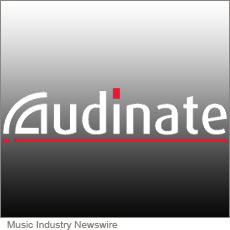 PORTLAND, Ore. (MuseWire) – Audinate, the inventors of the award winning Dante digital media networking technology and Four Audio, the German manufacturer of audio and loudspeaker management systems, are pleased to announce the launch of Four Audio's new DBO1. The DBO1 is a Dante enabled breakout box with 8 analog output channels. It allows the user to go from Dante to analog signals in a small 1U box.
Audinate is leading the way networks are connected by transporting high-quality media over standard IT networks. Its Dante products deliver a no-hassle, self-configuring, true plug-and-play digital audio network that uses standard Internet Protocols. Dante offers a market leading solution today, while de-risking the future by providing a migration path to upgrade to new standards such as the IEEE Audio Video Bridging ("AVB").
"Four Audio will attract a lot of industry attention with the new DBO1. Customers are increasingly asking for I/O solutions for connecting analog devices to a Dante network," said Dave Anderson, Director of Sales at Audinate. "Four Audio is providing an easy to use solution that can be deployed across a broad spectrum of use cases."
The DBO1 is operated by simply connecting it to a Dante network and configuring the easy-to-use breakout box via the Dante Controller. The DBO1's smart front panel displays allow quick and easy detection of the network and signal status. The 120 dB SNR, 18 dBu output level and integrated Dante redundancy mode means that the DBO1 covers a broad range of applications at very reasonable costs for its end-users.
"Having another Dante enabled product in our portfolio was a simple decision for us", remarks Rainer Thaden, Four Audio's managing director. "Seeing more and more products from other Audinate partners gives us great confidence that we chose the right path to go down"
The DBO1 is another Dante enabled product from Four Audio. Upcoming products will integrate digital outputs and analog inputs.
The DBO1, as well as other Four Audio products, will be showcased at Prolight+Sound in Frankfurt. Hall 8.0 at booth E36.
About Audinate:
Audinate revolutionizes the way that AV systems are connected by transporting high-quality media over standard IT networks. Using Audinate's patented Dante networking solution, digital media networking just got easy. Audinate's solution has been licensed by customers across the AV industry and can be found in installations and live sound applications globally. Audinate is a Promoter Member of the AVnu Alliance™. Audinate offices are located in US, United Kingdom and Australia. Dante is a trademark of Audinate Pty Ltd. Visit www.audinate.comfor the latest news and information on the company.
Dante is a trademark of Audinate Pty Ltd. Audinate is a registered trademark of Audinate Pty Ltd.
About Four Audio:
Four Audio is a German company founded by audio and signal processing specialists. They develop high-end loudspeaker measurement and management solutions for professional audio under their own brand as well as OEM.