Dynaudio Professional Introduces DBM50 – the Perfectly Angled Desktop Monitor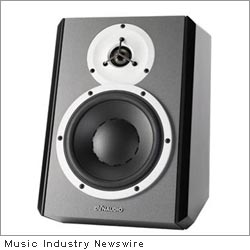 Frankfurt, Germany (MuseWire) – Dynaudio Professional introduces DBM50 – the perfect active desktop monitor featuring a 7.1 inch woofer and a 1.1 inch soft dome tweeter. All aspects of its design point towards desktop use – from the perfectly angled front over the ingenious waveguide around the tweeter to the optional addition of a level controller that never compromises the all-important level interrelationship between speakers.
Another key factor that puts DBM50 in the front seat is sheer quality. Each and every one is handcrafted in Denmark with attention to even the tiniest detail. More than 20 years of expertise in speaker design, development and manufacturing guarantees a set of monitors that go the extra mile to recreate even the smallest and most subtle details of any recording or production.
DBM50 comes with the option of adding a sleek controller that puts the user squarely at the helm of volume control in any situation. Levels can be set and manipulated with precision and ease, completely independent of the computer or workstation in use. The DBM50 controller provides perfect tracking, which guarantees spot-on stereo imaging with unprecedented precision.
DBM50 Main Features
• Perfectly Angled for Desktop Mixing
• Every Driver Hand-built in Denmark
• Optional Master Volume Control
• 7.1" Woofer / 1.1" Soft Dome Tweeter
• 50+50 Watts
• 117 dB SPL
• Frequency Range: 46Hz – 21kHz
• Dimensions: W 437 mm, D 410 mm, H 435 mm
• Weight: 7.2 lbs./kg.
Available
May 2012 in the EU
Summer 2012 in the US
Price
USD 499 MAP each
EUR 499 SSP each
GBP 415 SSP each
Volume Controller (optional)
USD 69 MAP
EUR 69 SSP
GBP 59 SSP.
More information: www.dynaudioprofessional.com/DBM50 .