Detroit-based Country Music Artist Billy Craig Pens Tune to Support 'Make a Wish' Foundation
DETROIT (MuseWire) – Last summer Billy Craig had the pleasure of performing at a "Make-A-Wish" event. After performing and meeting some of the great kids and the great people of this organization, he was moved and found himself wanting to do something more to help this awesome cause.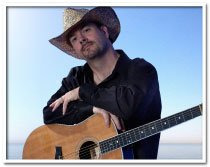 Billy says, "Driving home from the event, I wrote a song that I thought was so appropriate and went into the studio to produce it. It's called "Make A Wish."
Each line of the verse signifies a different wish for a well deserving child and of course the chorus is "Make A Wish."
It's available on iTunes, Amazon.com and Rhapsody.com for 99 cents and all proceeds are going to the Make-A-Wish Foundation helping make dreams come true for kids with life-threatening medical conditions.
Biography of Billy Craig:
Currently residing on the upper eastside of Metro Detroit, Billy was born and raised in the small town of Big Rapids, Michigan, the second youngest of nine kids. His musical influences started at a very early age from watching his older sisters dance to Motown hits and listening as his older brother played AC/DC and Van Halen albums. He recognized something powerful and familiar in the rhythms and riffs, and even though he couldn't explain it at the time, music seemed to burn in his young soul. It wouldn't be long before he charted his own course to becoming the seasoned pro that he is today.
His mother bought him his first guitar at age seven, and he was out doing gigs by the time he was in the eighth grade with his older brother's band. They won the Eastern Michigan Battle of the Bands that year, going up against bands with much older players, and Billy gained not only his first fans but also the confidence and desire to perform in front of larger audiences.
Since childhood, Billy has performed in thousands of shows. From solo performances to cover and original bands, from jazz and country to rock, he has played in front of audiences of up to 25,000 across the USA and abroad, including New York, California, Florida, Ohio, Texas, Detroit, Sweden, Denmark, Finland and Norway.
One of the founding members of the Detroit-based Greg Stryker Band, he co-wrote "Streets of Fire," a radio hit in Southeast Michigan that received heavy airplay on both WRIF and WLLZ in the Detroit metro market and as far west as Sacramento, California.
Of recent note, he was a co-writer for the country band Trigger Darlow out of Detroit currently getting major label interest in Nashville and airplay on WYCD in Detroit.
His present focus is his own original project, which he dubs a "folkrockcountry" kind of thing . . . and going deeper into the country genre, he's looking forward to starting pre-production on his follow-up CD.