Dave Smith Instruments Announces Custom Case for Prophet and Evolver
ST. HELENA, Calif. — Dave Smith Instruments has announced a custom keyboard case for their Prophet '08 and Evolver keyboards. This rugged, ATA-style case is a great way to protect your Dave Smith instruments. Custom made to fit the Prophet '08, the case is also a perfect fit for the Evolver Keyboard when used with the removable accessory tray (included). A built-in accessory compartment holds the power supply.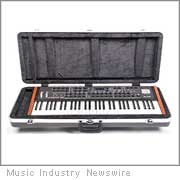 According to a company newsletter, "We know some of you have been waiting a long time and we appreciate your patience. The initial sample we received needed a few tweaks, so we went back to the drawing board and came up with something we think everyone will be happy with. The only feature change from the previous announcement is that the final case has no wheels. (We didn't think they were necessary – ­the case is very light and maneuverable without them.)"
Specifications for the Prophet '08/Evolver Keyboard Case:
Features include:
Made from rugged molded polyethylene
Heavy-duty aluminum valance
Half the weight of standard wooden flight cases
EPS foam protective interior
Chrome-plated, locking latches
Deluxe plush interior
Accessory compartment for power supply
Includes accessory tray for use with Evolver Keyboard
Weight: ~13 lbs. (~5.9 kg) empty; ~33 lbs. (~15 kg) with Prophet '08 Keyboard; ~29 lbs. (~13.2 kg) with Evolver Keyboard
Dimensions: 14.6″ W x 40.2″ L x 6.74″ H ( 37.1 cm x 102.1 cm x 17.1 cm)
Available direct from Dave Smith Instruments.
The cost is $299 plus $20 shipping and handling in the US ($40 to Canada). Shipping outside the US and Canada is available but, due to the size of the case, costs at least $100. (Shipping to some countries or certain locations within some countries may be more.)
For details, specs, and photos, see the case product page: http://www.davesmithinstruments.com/products/accessories/case.php .
[tags]Dave Smith Instruments, Prophet 08 keyboard case[/tags]