Darius Rucker Partners with Sparkart for Web – New Site is Now Live
NASHVILLE, Tenn. (MuseWire) – Sparkart Group, Inc., an Oakland-based full-service independent digital agency, is on board to develop, design, and manage the official website of Capitol recording artist, Darius Rucker. The official new site is now live at www.dariusrucker.com . Rucker joins Sparkart's roster of notable music clients which includes Jason Aldean, Brooks & Dunn, Janet Jackson, The Killers, and Carrie Underwood, among numerous others.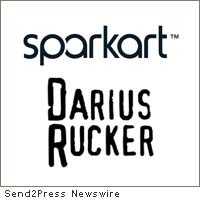 The new site will allow Rucker to better connect with his fans by offering presale ticketing, exclusive videos, behind-the-scenes access, message boards, and more, enabled by Sparkart's proprietary Clique Tools software. A powerful, creative-friendly platform, Clique Tools has been designed to support functionality, such as social networking features, e-commerce, and content management.
Ryan Bitzer, Sparkart Nashville's VP of Business Development, comments, "We updated the site to showcase Darius' awesome live show in the creative direction he wanted for his fans. We also added a FREE members-only area with presale ticket opportunities, exclusive VIP packages, and exclusive content with more behind the scenes footage. Having a website that's engaging for the fans is such a crucial element for artists today and, as Darius's Web partners, we think we've helped to create something spectacular that achieves just that."
"I've heard from a lot of our fans about the content they want to see on our website, and I want them to know that we've listened," says Rucker. "I'm really excited to have a website I can be proud of and one that functions as a one-stop shop."
All upcoming events and up-to-the-moment news will be readily available, including hot topics like Rucker's ACM Award Nomination for Top Male Vocalist of the Year (live results on CBS Sunday, April 18th), the 16th Annual Hootie and the Blowfish Monday After the Masters celebrity pro-am golf tournament set for April 12, 2010, and Darius' 1st Annual "Darius & Friends" concert on June 7, 2010 at Nashville's famed Wildhorse Saloon to raise funds and awareness for St Jude's.
Sparkart Nashville's Ryan Bitzer can be reached at 615.967.7010 or ryan@sparkart.com .
About Sparkart Group, Inc.:
Founded in 1999 and based near Silicon Valley in Oakland, California, Sparkart is the leading independent interactive technology firm which helps music artists and entertainment brands promote awareness, manage and create revenue streams, and design and produce Web sites. The company's clients include Jason Aldean, Brooks & Dunn, Janet Jackson, Carrie Underwood, The Killers, Bravado, and UFC, among many others. Sparkart's music clients alone have sold nearly half a billion records. For additional information, please visit www.sparkart.com .
Sparkart Media Contact:
Jim Havey, Jim Havey Public Relations, LLC
615.251.8802
jhavey@jimhaveypr.com .
Darius Rucker Media Contacts:
Ebie McFarland
Essential Broadcast Media, LLC
615.327.3259
ebie@ebmediapr.com .
Lori Genes
Capitol Records Nashville
615.269.2032
lori.genes@emimusic.com .