Dancing Diva Releases CD Where Tango Meets Electronic Beats
MUNICH, Germany — Sonja Armisen, Tango Fusion Club founder, announces the release of a second CD, "TangoFusionClub Volume Two: Electronic Tango Flavoured Beats," which has a distinctly refined, and electronic flavor. The decision to release this CD followed the amazing success of "TangoFusionClub: Electronic Tango Beats Volume One."
Tango-Go, a Munich-based label, was created by dance artist and producer, Armisen. The CD is a disarming mix of traditional Argentine Tango and modern electronic beats; it features exclusive tracks by Ryuichi Sakamoto, Karoll, Marope, Dellakimera, Celda, Armisen, and more.
"This most recent compilation contains soft melodies for lounging about, sophisticated beats for music freaks, and off-the-hook clubby pieces for the electronic dance floor," Armisen said. "However, every song still stays true to the melancholy passion that pervades traditional Tango music."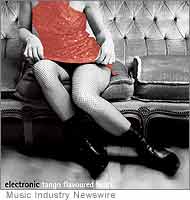 Armisen is also a passionate dancer, having taken Jazz, Modern, Flamenco, Afro and Salsa classes as a teenager. Along with her Argentinian husband, she visited Buenos Aires and immediately fell in love with the Tango. As a result, she feverishly took up Tango, and over 10 years ago, opened a Tango dance school. She is also an avid club dancer and began to seek ways to combine her passion for Tango and electronic club music. The result was a groundbreaking tango-dance floor mix that she created in 1999. However, at the time, no label was interested in this type of crossover music.
Some years later, after the Gotan Project had successfully released its first "electrotango" songs, Armisen realized that the time for tango-dance floor experimentation had arrived.
She was inspired to build a music label and collaborated with musicians and used songs licensed directly in Buenos Aires; she produced the first electrotango CD in 2004.
At the same time, she created a new dance style – "TangoFusionClub-Dance," a mixture of Tango and freestyle dancing. She organized club events to bring TangoFusionClub music and dance together and has spent much of the past three years teaching, being a Deejay and growing the TangoFusionClub scene in Munich as well as other parts of Europe and the United States.
Armisen's Deejay colleague, Stefan, contributed three songs to this new CD and a former Deejay colleague did a playful remix of a well-known Carlos Gardel song.
Armisen had the idea to create a cover of Ryuichi Sakamotos "Rain." For "Marope," she brought together clarinet player, Massimo Soavi, Bandoneon player, Peter Reil, and producer Stefan Rogall. As a special bonus, she has included four pieces that were released on vinyl in 2005, which are special club remixes made by well-known German Deejays such as Malente and Christian Prommer.
For more information, visit: www.tangofusionclub.com or
www.myspace.com/tangofusionclub
[tags]Sonja Armisen, Tango Fusion Club founder, TangoFusionClub Volume Two[/tags]