Crysonic Announces Availability of SpectraPhy LE for Mastering and Live Music Use
Physics Based All-Purpose Look-Ahead Pro Audio Limiter/Maximizer
ADELAIDE, SA — Crysonic today announced the release of SPECTRAPHY LE, a highly optimized look-ahead Brickwall Limiter and Loudness Maximizer based on it's bigger brother SpectraPhy. SpectraPhy LE has been designed to be used for tracking, mixing, Mastering and Live use or when ever a large quantity of limiters are required per project. Just as in the original SpectraPhy the proprietary Crysonic physics based approach is employed at the core DSP level, ensuring a very transparent sound with maximum loudness and no digital-overs.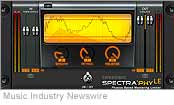 SpectraPhy LE is now available to purchase On-Line from the crysonic website and is available for Mac OSX Universal Binary AU, VST and Windows/PC formats.
SpectraPhy LE main features
. Proprietary Physics based Peak Limiting and Loudness Maximizing
. Look-ahead Brickwall limiting with no overshoots, less then 0.2 ms Delay
. Individual Left / Right Channel Limiting with Linking ability
. Graphical Spectrum and Attack / Release Display
. Pre-Smooth function to tame high transients
. Easily have 1-60 instances per project (Depending on Processor)
. Pre or Post output Spectrum
. Velocity Sensitive Dials for extreme precise adjustments
. Maximum transparent loudness
. Full Automation for all parameters PC and Mac OS X
. Very Intuitive GUI
. 64-bit internal precision
. 24bit/96Khz audio support
. Highly optimized custom DSP code
. Suitable for Mixing, Tracking, Mastering and Live use
. 64-bit internal precision
. 24bit/96Khz audio support
. Assembly DSP code with Vectorization on the Mac OS X Platform
. Available for both Mac and PC
SYSTEM REQUIREMENTS
WINDOWS – NATIVE PC VST Plug-in Format
. Intel Celeron 600 or faster processor
. 256MB RAM or more
. Vista /Windows XP/ 2000 / 98
. VST compatible audio application
MACINTOSH – NATIVE Universal Binary (Intel/ PPC) AU or VST Plug-in Format
. PowerPC or Intel Mac
. 512MB RAM or more
. Mac OS X 10.2 or newer
. AU or VST compatible audio application
More information visit:
http://www.crysonic.com
About Crysonic
Crysonic, based in Australia, SA, is dedicated to developing high quality state-of-the-art professional audio plug-ins at great value prices.
[tags]Pro Audio Limiter, Crysonic SpectraPhy LE, VST Plugin news[/tags]