ContinuuCon 2018 touches down and up in Paris at IRCAM for users and fans of Multidimensional Polyphonic Expression
The third Annual ContinuuCon 2018 comes to Paris at IRCAM for users and fans of Multidimensional Polyphonic Expression (MPE). The event will explore the uniquely expressive Haken Continuum instrument through music, workshops, lectures and more. Dr. Lippold Haken, inventor of the Continuum, and Edmund Eagan, developer of the Continuum's synthesis engine EaganMatrix, along with many other technologists and performers openly share their knowledge, history and musical talents at this event.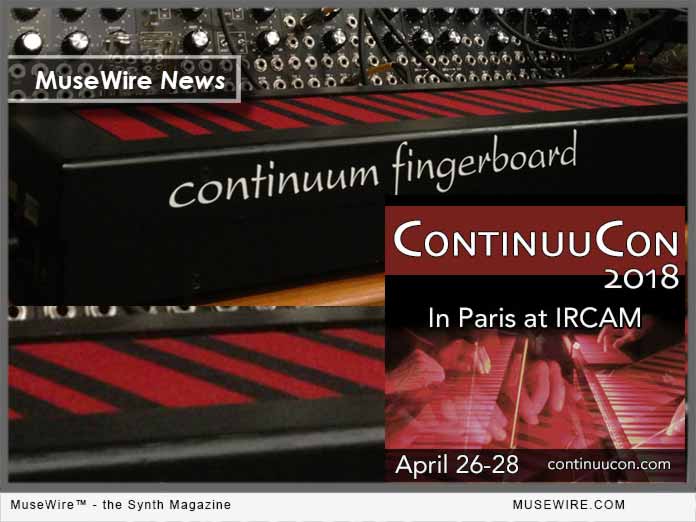 The event takes place April 26-28, 2018 in Paris at IRCAM, the Institut de Recherche et Coordination Acoustique/Musique (Institute for Research and Coordination in Acoustics/Music).
Learn more about the event at: http://www.continuucon.com/
Purchase tickets: https://www.weezevent.com/continuucon
2018 EVENT PROMO VIDEO (YouTube):
UPDATED EVENT INFORMATION (March 7, courtesy the ContinuuCon website):
CONCERT PERFORMANCES BY
Edmund Eagan, Eric Mouquet, Christophe Duquesne-François Astier, Sally Sparks,
Wayne Kirby, Antonio Machado, Benedict Slotte, Jean Baptiste Favory
PRESENTATIONS INCLUDE
IRCAM – Use of IRCAM's modal sythesis environment, Modalys, with the Continuum
Lippold Haken – What's new in the Continuum world, & General talk about the Continuum
Edmund Eagan – Multiple talks on the Eagan Matrix
Eric Mouquet – Use of the Continuum in Deep Forest's composition and performances
Christophe Duquesne – Toward an acoustic Continuum – and also some "Eagan Matrix session" could be proposed in the IRCAM studio
Wayne Kirby – Traditional classical performance techniques specifically related to the use of the Haken Continuum Fingerboard in the performance of excerpts from Paul Hindemith's 7 Triostuecke für 3 Trautonien
Daniel Grabois – Putting together a university research studio for EA music, in which the Continuum Fingerboard can co-exist with many other instruments and a computer nerve center, in a way that stimulates student interest
Jean Baptiste Favory – concrete music composition technics in his latest Continuum based album
Russell Hoffman – in-depth presentation of uCVC (Continuum controlling modular synth)
Cyril (Modularsquare) – TBD
About the Haken Continuum:
Designed by Dr. Lippold Haken and manufactured by Haken Audio, the Continuum Fingerboard is a musical instrument that allows unprecedented realtime performance control. With a greater pitch range than a traditional 88 note Midi keyboard, the Continuum offers realtime continuous control in three dimensions for every finger that is placed on the playing surface.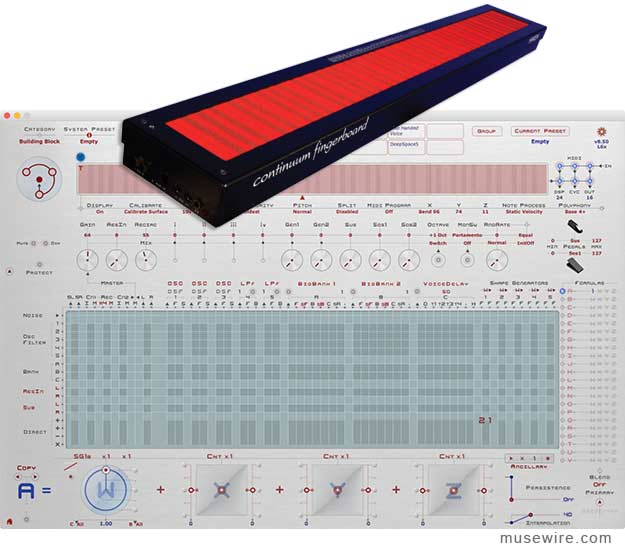 Included internally is a custom designed user programmable synthesizer, specifically programmed to take advantage of the subtle and dramatic expressive musical possibilities of the Continuum. The Continuum is available in full-size (nearly 8 octaves) and half-size (nearly 4 octaves) versions. Learn more at: http://www.hakenaudio.com/Continuum/
About IRCAM:
The fundamental mission of IRCAM is to spark energetic interactions between scientific research, technological development, and contemporary musical creation. Since the founding of IRCAM in 1977, this articulation is the primary structural axis for the institute's activities. One of the central issues is to contribute, through scientific and technological advances, to the renewal of artistic expression. Learn more at: https://www.ircam.fr/

VIDEO – A LOOK BACK AT THE 2017 EVENT (YouTube):

This version of news appeared first on MuseWire.com – © 2018 Christopher Simmons.