CME Announces USB Cable Interfaces
Direct connection of line, mic audio and MIDI via USB cables
CME (Central Music Company) announces the U2 USB Cable Interface Series, a series of USB cables with built-in computer interfaces for easy plug and play connection of line and mic level audio sources and MIDI keyboards and controllers. The U2GKB is designed for line level sources such as guitar, bass, and keyboards, the U2MIC is designed for microphone input and features +48v phantom power via USB, and the U2MIDI is designed to carry 16 channels of MIDI to and from a computer.
With a self-contained preamp and real-time monitoring, the U2GKB is designed for easy connection of a guitar, bass or keyboard to a computer for recording. It features a built-in audio interface with high quality A/D and D/A converters and is USB 2.0 compliant for fast transmission and low latency recording. A mini stereo output jack is also included for direct monitoring at zero latency.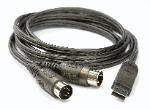 The U2GKB features a 1/4″ input and a USB output as well as one switch and four control buttons. The switch allows you to turn the pre-amp on or off, two of the buttons control the volume, and two control input and output muting.
The U2MIC is the world's first +48v phantom powered USB cable audio interface. Like the U2GKB, it features a high quality self-contained preamp, real-time monitoring output, a pre-amp switch and four control buttons, but uses an XLR input, a USB output, and includes phantom power for condenser microphones. The U2MIC is a great choice for plug and play vocal and instrument recording.
The U2MIDI turns the traditional USB MIDI interface from box into a cable. This MIDI-to-USB cable provides 1 MIDI-IN, 1 MIDI-OUT, and plug-and-play compatibility with all Macintosh and Windows software, enabling you to directly connect any MIDI device to a computer. The U2MIDI uses a special technology and USB 2.0 to provide faster response than a typical MIDI interface. Multiple units can be used within a set-up to clean up cable runs on stage and in the studio.
All U2 series cables are USB powered and are great solutions for mobile recording, live performance, or studio use.
Price and Availability: The U2 Series will be available in the Spring of 2007 starting at $34.95 (U2MIDI).
About CME
CME(R) is the registered trademark of Central Music Co, a high-tech enterprise founded in Beijing, China in 1993 and focused on the growing digital music production market. Central Music Co imports and distributes many of the world's top music production brands including Apogee, Emu, Event, Kurzweil, Millennia, Moog, MOTU, Novation, PreSonus, RME, Rode, and Terratec in the Chinese market.
The company uses its unique talents and vision to develop and manufacture digital musical instruments to meet the needs of the new generation of professional musicians. These products are sold worldwide under the brand of CME. More at http://www.cme-pro.com.
[tags]Central Music Co, USB MIDI Cable, USB mic cable, MIDI interfaces[/tags]