Cledus T Judd song parodies Tiger Woods' exploits – Caught by the Tail
NASHVILLE, Tenn. (MuseWire) – The comedic assault on Tiger Woods continues with the Cledus T. Judd release of a parody of the classic country song "Tiger by the Tail," recorded by Buck Owens in 1965. Judd's adaptation, "Tiger by the Tail (The Tale of Tiger Woods)," recorded just one week ago, is already spinning on major radio stations in Chicago (WUSN-FM), Tampa (WQYK-FM), and Knoxville (WIVK-FM), among others, and today a music video is making its viral rounds on YouTube. The single is available for download on iTunes, Napster, and Amazon.com.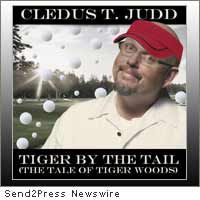 Known for his parodies of popular country music songs, Judd has been called the "Weird Al Yankovic" of country music. On his latest parody, Judd commented, "What got my attention first off on this story was Tiger Woods is worth hundreds of millions of dollars and he's messing around with a gal who works for Perkins. With his kind of money, I'd at LEAST gone for somebody a little classier … like a 3rd shift manager at IHOP."
Cadillac Jack, morning drive personality on KICKS 101.5/Atlanta, offered, "I played it for the first time on the Monday Morning Joke-Off and the phones have not stopped ringing since. It could be one of the most talked about song parodies in recent years. Great topical humor about a pretty sad situation. Cledus T. Judd may be richer than Tiger Woods when this is all over!"
An American country music artist signed with E1 Entertainment (formerly Koch Records), Judd is known primarily for his parodies of popular country music songs. His albums are usually an equal mix of original comedy songs and parodies. Judd has released ten studio albums and two EPs, and several of their singles have entered the Billboard "Hot Country Songs" charts, including "I Love NASCAR," a parody of Toby Keith's 2003 hit single "I Love This Bar." Judd starred in Season 5 of VH1's "Celebrity Fit Club."
This song makes the controversial "Saturday Night Live" Tiger Woods spoof that aired last Saturday night on NBC look a whole lot less offensive next to these lyrics in the first verse and chorus:
Well, she beat Tiger all to hell, it's plain to see,
hit him in his golf balls from the black and blue tees
She was teed off from a tough lie, he tried to tell
And looks like she beat Tiger all to hell
Well, he thought he'd cheat on her and she'd stand by her man,
She knocked out his window with his three iron in her hand
He got up and down in a skins game with a cheap Jezebel
And that's why she beat Tiger all to hell
Well, she beat Tiger all to hell, it's plain to see,
Looks like he's had a hole in one or two or three,
He should have never pulled out his wood, yeah, he should have kept it to himself,
That's why she beat Tiger all to hell.
For additional information, please visit www.cledustjudd.net .