Chris Gooddie leaves Focusrite / Novation
High Wycombe, UK (MuseWire) — Focusrite/Novation Sales Director Chris Gooddie has announced his resignation from an active role in the company in order to pursue his interest in bird watching. In light of Chris's departure, Damian Hawley has been promoted to the newlycreated position of Global Sales Manager for Focusrite/Novation. Nick Venables will be performing a dual role, continuing his efforts in the north of the UK, as well as supporting international efforts within the European market. In addition, Rob Ascough (formerly MD of Shure Asia) was appointed earlier this year in a freelance capacity to represent Focusrite and Novation brands in Asia, Australia and New Zealand, working out of Hong Kong.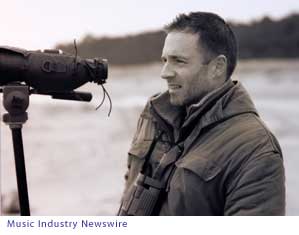 Recently appointed UK Sales Manager, Steve Beeston will also receive additional support in the form of Focusrite's latest addition to the Sales team, Neil Johnston. Recruited as an additional UK Sales Executive, Johnston is to focus on pro customer and education sales throughout the UK.
From February 1st 2009 until Jan 31st 2010, Chris will be attempting to see all the species of a particular family of birds called Pittas. There are 32 of these beautiful species in total, and no-one has ever attempted to see all of them in a single year. A new website, www.pittasworld.com, has been set up, which includes a blog to chart the mission's progress.
Originally referred to in many parts of Asia as "Jewel-Thrushes," Pittas are a highly secretive family of bird which live in the rain-forests of SE Asia, Australia, India and Africa. Many are endangered, and a few species, such as Gurney's Pitta, (Pitta gurneyi, which is known only from one site in Southern Thailand and one site in Tenasserim, Southern Myanmar,) are on the verge of extinction. Having already run the London Marathon twice to raise funds to protect the remaining forests in which Gurney's Pitta lives, Chris is now looking forward to returning to the Thai forest in an attempt to see Gurney's Pitta again.
Chris has commented: "After ten great years at Focusrite I feel the time has come to move on in pursuit of the dream which I have been planning for the last few years. I won't be abandoning pro audio pursuits altogether however; since Pittas are elusive and much more often heard than seen, finding them involves use of a shotgun microphone, digital recorder and playback speaker to record the birds and then playback their calls. Male Pittas hear the playback and come in to chase off what they assume to be a rival on their territory."
Chris leaves Focusrite/Novation January 31st 2009, and will be publishing a book on the adventure, (working title, "The Jewel-thrush Diaries") early in 2010.
Focusrite® is the premier choice for audio professionals and enthusiasts with an ear for detail. Focusrite was established back in 1985, with the introduction of the forte console, renowned for upholding a level of sonic integrity beyond compare. Since then, Focusrite's RED, ISA and Platinum solutions can be found pride of place in studios across the globe. Today, with Liquid technology and the Saffire range of Firewire audio interfaces, Focusrite remain at the cutting edge of digital audio workstation and signal processing solutions, with sonic integrity still forming the foundation of every design. These same qualities are to be found in numerous award-winning and industryshaping products, designed by Focusrite for other leading brands within the audio industry.
[tags]Chris Gooddie, Focusrite, Novation, The Jewel-thrush Diaries[/tags]