Casio's Electronic Musical Instruments Division Demonstrates Passion and Commitment to Music Dealer Industry
DOVER, N.J. (MuseWire) – More than 31 years ago, Casio America, Inc. introduced the CT-201, its first electronic keyboard and the world's first digital sound bank instrument with 29 preset tones. With years of successful introductions, including the legendary FZ-1, the world's first 16 bit sampler, as well as the Privia and Celviano line of digital pianos, Casio continues to demonstrate passion and commitment to the development of musical instruments with revolutionary keyboards, innovative technology and a strong business strategy.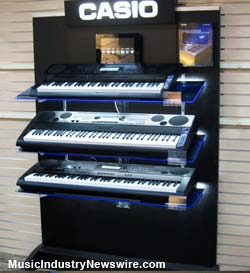 The overall business strategy includes new recruits that will help Casio to build and maintain relationships with key retail partners. No strangers to the music industry, Jeff Dunmire joins Casio as the new district manager of the Eastern Region and Tom Kowalczyk as the district manager of the Western Region.
Both Dunmire and Kowalczyk bring extensive expertise to Casio's team. Dunmire is well respected and admired for his business sense and overall understanding of the industry, while Kowalczyk is an accomplished studio musician and brings this talent to Casio's portfolio of product and can aid in the development of future product.
As district managers of their respective regions, Dunmire and Kowalczyk will oversee Casio's sales and the management efforts of independent rep firms and key independent accounts. In addition, they will be responsible for overseeing product training and demonstrations, as well as in-store clinics to further educate the staff.
Furthermore, the addition of three part-time music specialists will provide Casio with on-site trade show support across the country and will allow music dealers to conduct a variety of in-store clinics with built-in question and answer sessions to educate consumers and demonstrate Casio's musical product offerings.
"We are confident that the experience and skill sets that Jeff and Tom bring to the table will contribute to Casio's success," said Stephen Schmidt, vice president of Casio's Electronic Musical Instruments division. "The overall expansion of the Casio team reinforces our belief that music dealers are an important distribution channel and we look forward to fostering stronger relationships and providing them with the services and products necessary to help drive their business."
To enhance the point-of-sale experience for dealers, Casio will place interactive product displays in select independent music stores. Displays will showcase multiple keyboard models and provide product information presented via LCD screens. With the introduction of QR codes to the display system Casio will deliver messaging and additional information directly to consumers.
"Casio has been instrumental in ensuring our success," said Ed Spence, manager of Washington Music Center. "We believe that the interactive product display helps us create an enhanced in-store experience for our customers, while also enabling us to present a high caliber of products and knowledge."
Casio's commitment to music dealers extends to the product offerings and positioning within the channel. Casio has a long history of developing products specifically for the Music Dealer channel and their customers, including several new products that will be released at Summer NAMM.
Another area of focus in the coming year will be in the music education arena. Casio will be attending music education trade shows, teacher events and working closely with its dealers who specialize in the music education market. Throughout its history, Casio has been committed to providing keyboards and digital pianos with features which help foster music-making and music education such as the Step-Up Lesson System and key lighting technology. Essentially, the Step-Up Lesson System divides music pieces into short, easy-to-master phrases making it easy for just about anyone to learn to play. The PX-130 Privia digital piano introduced duet mode which enables the teacher and student to play simultaneously improving hands on instruction.
Additionally, Casio will implement an extended two-year warranty on its Privia and Celviano digital piano lines with online registration. The extended warranty will instill dealers with confidence in Casio's offerings and solidify that consumers purchase long-lasting, quality electronic musical instruments. The extended warranty program supports Casio's heritage in the industry as a leading manufacturer of cutting-edge musical products, musical artistry and dedication to the music dealer community.