Camel Audio announce Ian Boddy: Analogica for Alchemy
Worcestershire, U.K. (MuseWire) – Camel Audio Ltd. today announced "Ian Boddy: Analogica" – a rich marriage of classic synths and Alchemy's sophisticated digital manipulation, comprising over 800MB of new samples from a studio crammed full of classic analogue hardware including the VCS3, Minimoog and Moog Voyager.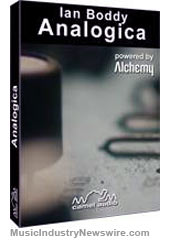 A host of unique effects from shimmering ring mod and FM soundscapes to rich and squelchy Minimoog basses will add a unique analogue flavour to your music productions.
Number of Sounds: 150 (1200 variations)
Sound Categories: 30 Soundscapes, 26 Pads, 24 Sound Effects, 21 Synth, 17 Arps, 16 Leads, 16 Bass – view full list
Genres: Ambient, Electronica & Soundtrack
Sound Designer: Ian Boddy
Download size: 533MB (Alchemy Player version 533MB)
Requirements: Alchemy Player (included) or Alchemy.
Analogica features over 800MB of new sounds from a drool-worthy synth collection including modular setups from Analogue Systems, Doepfer, Roland and Serge, and classics such as the VCS3, Minimoog and Moog Voyager. Ian Boddy has been at the forefront of the UK Electronic scene since 1983, with a formidable reputation as a sound designer, and a host of album and sample CD credits.
$59 from the Camel Audio website.