California Copyright Conference to Present 'An Evening with the Guild of Music Supervisors' on May 24 in Los Angeles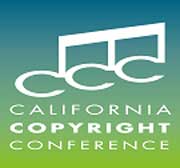 LOS ANGELES, Calif. (MuseWire) – Recognizing the important role of music supervisors in the new realities of today's music business, the California Copyright Conference will present "An Evening with the Guild of Music Supervisors" on the night of Tuesday, May 24 in Sherman Oaks (Los Angeles). "We invite you to join us for an event featuring some of the most successful music supervisors in the business," states CCC President Shawn LeMone. "We are looking forward to a lively discussion of current trends affecting music placement in film, television, advertising and video games," added LeMone.
This event acknowledges the desire of music publishers and songwriters to have an exchange of ideas with those who are leading the way in the field of music supervision. All of the panelists will be board members of the newly-formed Guild of Music Supervisors and they will discuss the goals of this dynamic new organization.
Panelists:
Confirmed at press time are: Maureen Crowe (credits include: "Wayne's World," "Chicago," "The Bodyguard," "Poseidon," "The Pink Panther," "Uptown Girls," "Look Who's Talking Too"); John Houlihan (credits include: "Training Day," "Austin Powers," "Letters To Juliet," "Fame," "Charlotte's Web," "Get Rich Or Die Tryin'," "New York Minute," "13 Going on 30"); Evyen Klean (credits include: "Cinema Verite," "The Pacific," "Angels in America," "Lie to Me," "The Shield"); and P.J. Bloom (credits include: "Glee," "United States of Tara," "CSI: Miami," "Eat Pray Love," "Nip/Tuck").
Moderating the panel will be Steve Winogradsky, past president of the CCC and Partner at Winogradsky/Sobel.
When and Where:
This special CCC program will take place Tuesday, May 24, 2011 at the Courtyard by Marriott Hotel, 15433 Ventura Blvd., Sherman Oaks, CA 91403 (near Sepulveda & Ventura Blvd., just West of the 405 freeway). The parking entrance is on Orion Avenue and parking is free with validation at the event. Check-in is at 6:15 p.m., cocktails begin at 6:30, dinner at 7:00 with the presentation to follow. Cost is $40 for CCC members and college students with I.D., $50 for non-members.
About the California Copyright Conference:
The California Copyright Conference was established in 1953 for the discussion of copyright-related areas pertaining to music and entertainment. The CCC encourages, fosters and promotes an interest in all materials relating to copyrighting and other protection of intellectual and creative properties.
MCLE credit is available for all CCC programs.
To reserve a seat for the Tuesday, May 24th dinner program, or for more information on The CCC, visit http://www.theccc.org or call 818-379-3312.
Media contact:
John Scott G
jsg@gmanmarketing.com .
Phone: 818-223-8486