Cakewalk Announces SONAR 7 DAW Now Shipping
BOSTON, Mass. — Take a fresh look at your evolving music creation and production needs, and turn to SONAR 7 Producer Edition, the technology leading digital audio workstation. Cakewalk SONAR offers a remarkable experience that excels at every step of your production – from its inspiring, open and customizable environment, to intuitive music creation and editing tools, to polished mixing, editing and delivery – with the recognized best audio quality in the industry.
SONAR 7 Producer Edition rounds out and extends its comprehensive offering of powerful creative tools with new developments which include: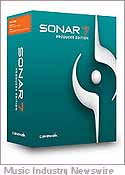 * A complete MIDI overhaul with Smart MIDI Tools and dozens of other new features
* Introduction of the most powerful Step Sequencer found in any DAW
* True linear phase mastering plug-ins
* Internal sidechaining
* Delay compensation for external hardware
* Pitch to MIDI functionality with Roland V-Vocal 1.5
* Numerous workflow, mixing, and delivery enhancements throughout the application.
Flash overview presentation of Sonar 7 Producer Edition:
http://www.cakewalk.com/Products/Sonar_7_Features.swf
Special offer for existing Sonar users:
SONAR 7 ships with brand new instruments including Dimension LE. If you order SONAR 7 by September 29th, you can upgrade to Dimension Pro for only $99US (see Cakewalk website for more information).
[tags]Cakewalk SONAR 7 Producer Edition, Dimension LE, Dimension Pro virtual instrument[/tags]