Cakewalk Announces new PC2A T-Type Leveling Amplifier Plugin for ProChannel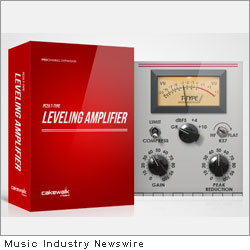 BOSTON, Mass. (MuseWire) – This week Cakewalk Inc. announced their latest "pro" level audio mastering and recording plug-in designed for the SONAR DAW platform. According to the company, it is, "faithfully modeled after one of the most sought after studio compressors in history." The PC2A T-Type Leveling Amplifier puts the silky, smooth sound of this highly desirable unit right into SONAR's ProChannel.
Since the 1960s, professional engineers have relied on the unique characteristics of this electro-optical tube-based compressor to work its magic on all kinds of sources, including guitars, bass, pads, and especially vocals. Previously only available to big studios that could afford these all tube units, the PC2A T-Type Leveling Amplifier lets you wield this legendary sonic weapon in your own studio, on your own tracks.
With only a few simple controls, it's easy to use and provides instant gratification with professional results. And because it's a ProChannel module it features native x64 operation, zero latency performance, and 64-bit double precision audio fidelity. Get the kind of smooth, warm sound heard on so many classic recordings, at a fraction of the cost and with modern convenience.
Key features:
* Meticulously modeled
* Native 64-bit operation
* Zero latency for realitime tracking and mixing
* Up to 40dB of smooth, transparent gain reduction
* Frequency dependent compression
* Program dependent attack/release
* Fully modeled "R37?
* HF Pre-emphasis control
* Dual photocell reset modes (Classic & Fast Reset)
* 64-bit double-precision audio fidelity.
SONAR X1 Producer Expanded Required: SONAR X1 Producer Expanded adds ProChannel Modularity and is required to use the ProChannel Concrete Limiter. Regularly $79, Cakewalk is offering a half-price offer through end of March, 2012 (or first 1,000 purchases).
MORE INFORMATION: http://cakewalk.com/Products/ProChannel-Modules/PC2A-T-Type-Leveling-Amplifier.aspx .