Brooks & Dunn Team with Sparkart for Revamped Website
NASHVILLE, Tenn. (MuseWire – As country music superstars Brooks & Dunn prepare for their 47-city farewell tour, aptly named The Last Rodeo, the hit-making duo have roped in Sparkart Group, Inc., an Oakland-based, full-service, independent digital agency, to develop, design, and manage the official Brooks & Dunn Web site, www.brooks-dunn.com . Their new website launches today, as Brooks & Dunn become the latest big country act to partner with Sparkart, whose music clients include Jason Aldean and Carrie Underwood, as well as other national acts including Evanescence, Janet Jackson, and The Killers, among numerous others from a variety of genres.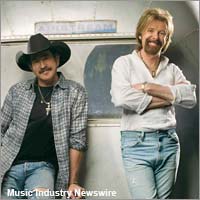 Ryan Bitzer, Sparkart Nashville's VP of Business Development, commented, "This is the last hurrah for the most successful duo in the history of country music. They've teamed with us [Sparkart] to create a more streamlined website and to enhance and simplify their online store, including giving easier access to pre-sale ticketing opportunities. There is a high demand for this tour ticket and Brooks & Dunn wanted to choose a web partner who has deep experience handling many consumers at once."
Sparkart CEO, Naveen Jain, added, "We are proud to be aligned with country superstars like Brooks & Dunn. Their upcoming history-making tour is already generating incredible excitement, and our proprietary Clique Tools software platform will enable Brooks & Dunn to give their fans the best online experience. Since Brooks & Dunn are going all out for The Last Rodeo we wanted to help make this spectacular tour memorable for their fans at every turn. Having a website that's engaging for the fans is a crucial element."
Besides making the store checkout process as seamless as possible and enhancing the overall user experience, Sparkart is also hosting "B & D TV" on the front page of the site, which will provide entertaining content and help keep fans tuned in.
The Last Rodeo tour, launching April 23, 2010, follows the recent release of Brooks & Dunn's 20 year career-spanning double-disc collection, #1s … AND THEN SOME, which features 30 favorites in all, including an amazing 23 #1 hits. Among the songs on #1s … AND THEN SOME is the smash single, "Cowgirls Don't Cry," which earlier this week earned the duo their 15th career GRAMMY Award nomination.
Ryan Bitzer can be reached at ryan@sparkart.com or 615.967.7010.
ABOUT SPARKART GROUP, INC:
Founded in 1999 and based near Silicon Valley in Oakland, California, Sparkart is the leading independent interactive technology firm which helps music artists and entertainment brands promote awareness, manage and create revenue streams, and design and produce Web sites. Sparkart provides unique in conjunction with their proprietary Clique Tools software designed to support functionality, such as social networking features, e-commerce, and content management. The company's clients include Jason Aldean, Bon Jovi, Evanescence, Janet Jackson, The Killers, Metropark, O.A.R., Ultimate Fighting Championship, Carrie Underwood, and Wolfmother, among hundreds of others. Sparkart's music clients alone have sold nearly half a billion records. For additional information, please visit www.sparkart.com .
ABOUT BROOKS & DUNN:
Brooks & Dunn banded together in 1990. In August 1991, they released their debut record "Brand New Man" and have since remained a Top 10 fixture on the country charts throughout their 20-year career. They have also become one of the top country ticket draws on the concert market. Together, the musicians have recorded 23 chart-topping singles and won more than 80 awards.
Media contact:
(Sparkart): Jim Havey, Jim Havey PR, 646.554.5519 or jhavey@jimhaveypr.com .