Brainworx celebrates 10 years of premium audio plugins for recording and performing with promotion
Brainworx is celebrating their 10th anniversary in 2017, and is offering fans and new users a promotion during August in celebration. The technical achievements of the last 10 years alone are noteworthy enough, but Brainworx's success is also deep-rooted in company CEO Dirk Ulrich's extensive experience as a producer and audio engineer, work which continues to this day.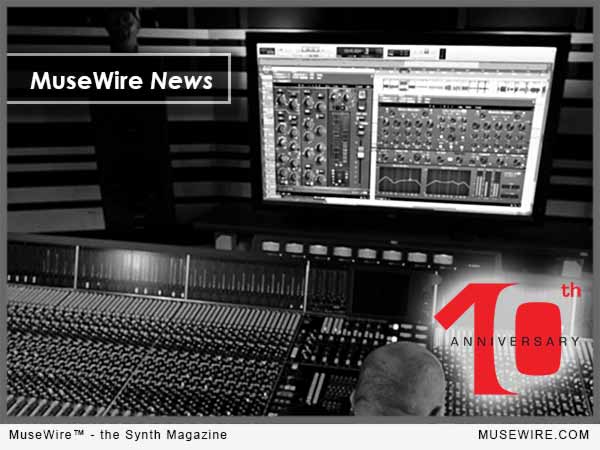 Brainworx's bx_console E, is the latest flagship plugin from Brainworx that truly represents its past, present, and future. bx_console E pairs a 72-channel emulation of the high-end, hit-making British E Series console — complete with comprehensive COMPRESS (compressor/limiter), full- featured EXPAND (expander/gate), powerful four-band parametric EQ, and wide-ranging (high pass and low pass) FILTERS.
Brainworx's brainchild is much more than a channel strip plugin with multiway routing, representing 10 years of refinement in its development of EQ and dynamics processors with cutting-edge circuit modeling of the analog domain to reset the bar for creating an authentic large-format mixing console experience in-the-box. Brainworx's patent-pending TMT (Tolerance Modeling Technology) simulates the channel-to-channel variances of the E Series' electronic components on each and every instance of the plugin.
Ulrich's desire to build better tools for his chosen profession has driven the company's capacity to create tools that just work for professionals. Professional through and through, his enduring enthusiasm comes through loud and clear when talking about bx_console E and TMT: "It's hard to describe the excitement of sitting at a real analog, large-format E Series console, comparing it to our bx_console E plugin emulating the exact same console, and not being able to tell the difference. Other emulations miss the most crucial part of what makes those big boards so desirable, which is the depth and width of the sound; you can only get that from many slightly different channels together, working their magic on the music."
VIDEO (YouTube): "bx_console E & G – TMT Demo at Fantasy Studio´s real console"

"10 years ago I was producing music for a living, and I was at a big studio in Cologne to have some of my mixes mastered," said Brainworx CEO Dirk Ulrich in a statement today. "The guys there were using a custom-built M/S matrix with some decent, regular EQs, and I was blown away with what they could do with it. This is when I decided I wanted to build a hardware analog EQ with an M/S matrix built in, so I started working on this with a friend of mine.
"To prototype we worked with a software development kit from a German company, Creamware. Once we had a functioning prototype of an M/S EQ inside the box, we showed it to the Creamware guys and they said, 'Wow! You should absolutely make a plugin out of this.' Funnily enough, the hardware never went into production because we had a plugin ready, took it to some trade shows, and it completely took off, so we've focused on developing software ever since. We began to create more plugins based on M/S technology, and people seemed to really dig what we did with each new release."
"This is the third generation of bx_digital, the EQ plugin that basically started Brainworx as a plugin company," continues Ulrich. "Seeing the V3 come to life… daddy couldn't be prouder!"
Brainworx's appropriately-themed 10 Years/10 Deals celebratory sale starts on August 11 and runs through to August 27 with 10 hand-picked plugins available at attractively discounted pricing available exclusively from its U.S. sister company/distribution partner Plugin Alliance here: https://www.plugin-alliance.com/.
About Brainworx:
Since 2007, Brainworx has developed a reputation for creating sonically-advanced plugin tools at its German HQ. Highlights include the Brainworx-branded M/S-standard EQ, bx_digital V3, and game-changing bx_console channel strip. As the founding development partner of Plugin Alliance, Brainworx has also developed partnerships with SPL (Germany), Shadow Hills Industries (USA), Dangerous Music (USA), Ampeg/ LOUD Technologies (USA), Friedman Amplification (USA), and many more besides. Learn more: http://www.brainworx-music.de/

This version of news is Copr. © 2017 by Christopher Simmons – MuseWire.com – all rights reserved.