Bob Moog Foundation Needs IndiGoGo Donor Support to Bring Dr. Bob's SoundSchool to Life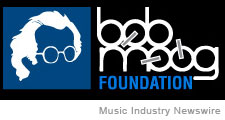 ASHEVILLE, N.C. (MuseWire) – While Michelle Moog-Koussa is touched by her father's enduring legacy as the godfather of modern electronic music, she is driven to see that legacy expand by inspiring children to learn the science of sound through the magic of his music. She's looking to IndieGoGo.com and Boob Moog fans across the country to help The Bob Moog Foundation take Dr. Bob's SoundSchool on the road to reach 5,000 students across the country. Timing is critical. The Moog Foundation needs to reach its $50,000 goal before the IndieGoGo opportunity expires on March 1, 2012 at 11:59 p.m. EST.
"Our IndieGoGo campaign features a video that uses my father's voice and footage of students experiencing the innovative equipment and curricululm," Michelle says. "True fans will appreciate the fact that there are incentives at each level of giving, such as opportunities to win a Moog Voyager Select signed by various 2011 Moogfest artists, or tickets and accommodations for two to 2012 Moogfest."
"I realize we're coming upon the 11th hour, but I'm also confident in this program's ability to open new creative doors for our children," she says. "Given bugdget cuts across the country, a growing number of schools are being hard pressed to maintain their music programs. With Dr. Bob's SoundSchool, not only are we bringing music into the schools, we're exciting students by showing how it aligns with the sciences."
The Bob Moog Foundation, inspired by an outpouring of letters and emails from across the globe, aspires to ignite the innovator in children and adults through interactive educational experiences that draw from Bob Moog's legacy of groundbreaking work at the intersection of music, science and imagination. The Foundation provides hands-on opportunities for children and adults to explore the science of sound through Dr. Bob's SoundSchool.
To learn more about maing a donation, visit:
http://www.moogfoundation.org/supporting-the-bob-moog-foundation/ .