Blues Band ('Original Urban') Beats Out R&B and Hip-Hop Acts – Aunt Kizzy'z Boyz Offered Deal
HOLLYWOOD, Calif. – "Fantastic!" "Let me bow to you!" "I walk out of here tonight a blues fan because of you." "Why am I talking and you guys aren't playing?" "After hearing just two songs, I want to buy your CD!" Members of the band Aunt Kizzy'z Boyz, who went on to win Round #1 of LAMN Jam's Urban Music Contest by a landslide, were delighted to hear these words, especially when spoken by industry experts whose interest can have real bearing on their career.
Winning Band Offered Deal
In fact, after Aunt Kizzy'z Boyz performance, one judge – RBC Records' Brian Shafton – offered the band a distribution deal on the spot.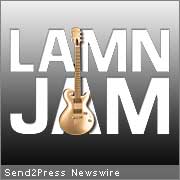 Unanimous in their decision, judges at the Urban Music LAMN Jam are industry experts with an ear for talent and the ability to take it to the next level. Interscope Records A&R scout Danny Carter, himself heavily steeped in contemporary urban and hip hop music, gave some of the evening's most heartfelt words.
"As an A&R [scout], I study all the music that came before me, and you showed me tonight I haven't really done proper research on the blues. But I walk out of here tonight a blues fan because of you. You inspire me to do what I do."
Bands Benefit From Constructive Feedback
Aunt Kizzy'z Boyz now advances to the finale on August 25 to compete for the grand prize, but the point of the evening was not just to select a winner, it was also to give developing artists constructive feedback to advance their careers and improve their craft, especially commercially. Talent judges included Carter, Shafton, Atlantic Records A&R scout Chris Morris and Angel Diva Music's Jan Linder-Koda. Some of their comments:
About S1
Carter: Great job, "Extacy" is really catchy, and I commend you on your level of energy. Stage performance is something often overlooked and under-rated by lot of new artists.
About Rob Jay
Koda: I loved the sounds on the second track, I definitely want to get your number.
Carter: I really appreciated your lyrics on "Soldier," I've got a lot of love for people who go over there and risk their lives. "Gangsta" sounds like it could sprout legs on the Internet, especially among college kids.
Jackie Boyz
Koda: You hooked me in the beginning because you started to tell a story of your lives, and it wasn't done to elicit sympathy. I loved the choruses and hook at the end of "Serious." Delivery and harmonies were great, you're so in synch with each other, it's wonderful. I definitely want to hook up with you guys, I have some artists for you to write for.
Morris: There's something special about you guys. Your songs are well-developed and very musical, [they have a] seamless flow, [no] rough edges.

About Sektor 7
Shafton: The first word that comes to mind is ENERGY, you were intense from the first note. [Made me feel] like getting up there and drinking and partying and having good time. You need to be a little more cohesive as a group, but the chemistry will develop as you perform together more. Good job!
Brotha Bill
Morris: Your second song was great… If you're going to pursue a particular direction, I think Urban / AC direction is really who you are.
Shafton: [You're] a great presence, the music and the feel and the beat really captured something. Loved the funk!
About Aunt Kizzy'z Boyz (winners!):
Carter: I just wanted to start off by saying 'thank you' because I just feel I got treated to something special tonight. I don't feel like I'm in any position to judge what y'all do. As an A&R, I go back and study all the music and predecessors that came before me. And you showed me tonight I haven't really done proper research on blues. But I walk out of here tonight a blues fan because of you. People like you motivate me to do what I do, to try to be the best… because I see that you've been doing it for a long time. I just watched you on stage, there's music pumping through your veins, you're gettin' pleasure out of being here. Like I said, you inspire me to do what I do. So thank you!
Morris: I thought you guys were fantastic! Ray, your voice is amazing, it's totally unique, you guys are all absolutely incredible players, I feel uncomfortable passing judgment. Look, we've been seeing contemporary urban, R&B and hip hop acts all night, and it was kind of a surprise and shock to see a blues act come up… You guys were fantastic, it was a real treat, thank you so much!
Koda: Let me bow to you!
Shafton: Why am I talking and you guys aren't playing? You just ripped it up! Over the top! You did an unbelievable intro, your musicianship is fantastic, from A to Z, every single one of you guys. The chemistry is there, you can feel it, you can smell it, the stage presence, the experience, the interaction, your aura… it's all so real. A+ and heartfelt! After hearing just those two songs I want to buy the CD!

The Blues: Original Urban
Best comments of the evening came from Sugaray, lead singer of winning band Aunt Kizzy'z Boyz in response to Morris's pleasant surprise to see a blues band of "old guys" beat the pants off five other contemporary urban, R&B and hip hop acts that night. Blues "is original urban," said Sugaray.

Runners-Up Advance to Finale
Jackie Boyz were runners-up in the competition. They advance to the finale on August 25 together with Aunt Kizzy'z Boyz to compete for the grand prize, a career launch package that includes the option to sign winning songs to Red Queen Music for commercial exploitation in film and TV; personal consultation in performance, songwriting, marketing and business plan development; a professional photo session, resources and gear, and more.
Monday's LAMN Jam completes Round #1 of the Urban Music Contest, sponsored by the Los Angeles Music Network. Taking its popular "LAMN Jams" to a new level, LAMN invites urban and rock artists to perform original music for a panel of industry experts and receive live critiques at Skinny's Lounge located at 4923 Lankershim Boulevard in the NoHo Arts District (N. Hollywood).
Performance Dates
Rock: Jul 7, Aug 11 (finale). Urban: Jul 21, Aug 25 (finale). Open to the public – admission is free for all dates, 21+, 8:00 p.m. show time.

Top Industry Experts Judge Talent
Confirmed talent judges include senior executives from Power 106-FM, 98.7-FM, Atlantic Records, RBC Records, Interscope Records, Trans World Entertainment, MySpace Records, a multiple Grammy Award-winning producer, SIXX: A.M., Taxi.com, Music Connection Magazine, Stones Throw Records, Stampede Management, Angel Diva Music, Red Queen Music and more.
Submit Your Music Now
Artists register online at www.lamn.com or call 818-769-6095 now. Submission fee is $25 and performers compete to win prizes at monthly LAMN Jams. Monthly winners move up to compete for the Grand Prize.
We Love Our Sponsors
LAMN Jam sponsors include Power 106-FM, 98.7-FM, Urban Network, Heroin Diaries / Ovation Guitars, DDrums, Paiste America, Angel Diva Music, Red Queen Music, Home Recording Boot Camp, Justin Winokur Photography, Music Connection Magazine, On / Off Records, Onlinegigs.com, Optic Noise Music Licensing, Send2Press.com (a division of Neotrope), Propellerheads, Skinny's Lounge, Taxi.com, Tunecore.com, Music Business Registries, Veneto West Studios and What Is Indie?
About LAMN
Now in its 20th year, the Los Angeles Music Network (LAMN), promotes education, career advancement and good will among artists and creatives. LAMN Jams give talented artists a platform to perform their original material for music industry experts. These contests foster artistry and talent development, enable professional introductions and deals that advance artist careers. LAMN is a sister organization of the National Association of Record Industry Professionals (NARIP) which caters to record executives.
ARTISTS APPLY ONLINE NOW!
www.lamn.com
[tags]LAMN Jam Urban Music Contest, Los Angeles Music Network[/tags]