Blue Mics Appoints Scott Schumer VP of Global Sales
WESTLAKE VILLAGE, Calif. — Blue Microphones, a leading innovator in microphone technology and design, announces the addition of veteran sales professional Scott Schumer in the position of Vice President of Global Sales. Schumer is chartered with the task of growing the sales and support infrastructure as well as utilizing key channel relationships to maximize opportunities in the professional audio and consumer markets.
After honing his professional sales skills at Sennheiser USA, Harman Professional Group, In2Out Audio and LOUD technologies, Scott has decided to return to his creative roots in teaming up with the unique group at Blue microphones where he will lead global sales as Blue Microphones expands into larger markets.
"In our search for a VP of Sales, we were looking for an experienced team builder capable of leveraging Blue's unique brand value to implement our growth initiatives," said Eli Probst, CEO of Blue Microphones. "Scott's extensive sales experience, creativity, and track record of success with microphones and related products make him the perfect addition to the cutting edge culture at Blue Microphones."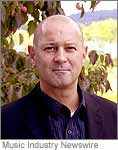 A Writer / Producer member of ASCAP, Scott wrote the theme for A&E Network's Caroline's Comedy Hour and incidental music for daytime dramas: As The World Turns, The Guiding Light, One Life to Live and Another World. He composed and produced over 50 regional and national commercials and contributed to scores for feature films.
Scott is a graduate of Montclair State University having earned his Bachelor of Science degree in Business Administration. He currently resides in the Los Angeles area with his wife Ina, son Travis, daughter Chelsea and GG their Weimaraner.
About Blue Microphones
Blue was founded in 1995 and has grown from a desire to create a few hand-built microphones for fellow musicians into a unique, multi-faceted audio company with a prestigious line of award-winning microphones and accessories. Headquartered in Westlake Village, California, and with engineering and manufacturing facilities in Latvia, Blue Microphones continues to grow and lead the way with cutting-edge design and technological innovation in the field of recording.
[tags]Blue Microphones, microphone technology and design, Scott Schumer, professional audio markets, Eli Probst, music instrument marketing, ASCAP Member News[/tags]