Blue Microphones Introduces Mikey Portable Recorder for iPod and Eyeball Web Cam
Westlake Village, Calif. — Blue Microphones, a leading innovator in microphone technology and design, today introduces Eyeball and Mikey, two new consumer products for capturing exceptional audio at an invitation-only event at the Gibson Showroom in Beverly Hills featuring performances by Chris Pierce, The Daylights and Mateo. "With Mikey and Eyeball, we're building on the success of Snowflake and Snowball, our first consumer products, and changing the game for portable recording and personal broadcasting," said Skipper Wise, Blue's president.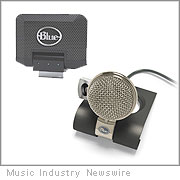 "Previous web cams and recorders were designed like computer peripherals, not specialized consumer electronics; we've re-invented these markets with Blue's sense of style and commitment to superior sound."
Mikey:
Mikey is a recording device for the iPod that makes recording lectures, voice notes, live music, and interviews easy on the ubiquitous music and video player.
Mikey features:
* Blue's superior quality stereo condenser capsules
* Three position user selectable gain settings
* Built in speaker for playback
* Unique user positionable head
Mikey works with iPod 4G, 5G, 6G, iPod Nano 2G, 3G and iPod Classic and is compatible with most protective cases.
With the introduction of Mikey it's never been easier to capture content with the award-winning, famous Blue sound on the go.
Eyeball:
Eyeball is a web cam with exceptional audio and outstanding video, making it perfect for instant messaging, and video conferencing.
Eyeball features:
* Blue's superior condenser capsule
* Premium lens with Super HD video
* Camera-off privacy position with innovative lens pop in and out feature to prevent accidental broadcasts
* Plug and Play ease of use; no driver needed.
Using the same integrated stand and case design as in Blue's popular Snowflake USB mic, the Eyeball also includes a custom designed monitor adapter making it simple to position it on virtually any laptop or desktop monitor.
Mikey and Eyeball redefine the concept of the consumer audio peripheral by combining functionality that has become common with uncommon audio quality and design.
Blue has introduced several products over the past year including Icicle, Snowball and Snowflake that blend the company's experience in pro audio with the ease of use and forward thinking design required by consumers.
Pricing and Availability
Both new products will be available in December 2008 for a suggested price of $79.99 for Mikey and $99.99 for Eyeball at flagship retail partners such as The Apple Retail Store, Amazon.com and other fine pro-audio and consumer electronics retailers worldwide.
[tags]Blue Mikey for iPod, Eyeball Web Cam, Skipper Wise[/tags]