Blue Launches Encore Series Mics at Esquire Soho
New York City (MuseWire) – Blue Microphones, a leading innovator in microphone technology and design, launched Encore, their new series of live microphones, with an event at Esquire Magazine's new Signature Space at the Soho Mews in New York City on October 9, 2009. A large crowd of audio industry press and dealers were treated to live performances by Irish rock band Bell X1 and singer-songwriter Zee Avi using the new Encore 100 and 200 microphones.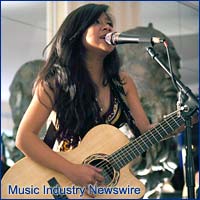 The release of the Encore series microphones marks Blue's entry into the live sound market, bringing their 15-years of making high-quality studio microphones to the stage. With a rugged build, individual style, and quality components to help vocalists and musicians sound and look their best on stage.
The Encore 100 is a studio-grade dynamic microphone featuring Blue's custom-tuned Aria dynamic capsule while the Encore 200 adds Blue's Active Dynamic circuitry, providing the best of both a dynamic and a phantom-powered microphone. The Encore 300 is the flagship of the series and uses a hand-selected Aria condenser capsule with a matched pre-amp and phantom power circuit and custom tuned enclosure,
Befitting the new Encore series' elegant design and modern technology was their debut at one of New York City's hottest real estate properties, Esquire Soho, a sprawling, 9,200-square-foot, glass-walled penthouse at Soho Mews. Designed by Gwathmey Siegel & Associates Architects LLC as "the ultimate bachelor pad", the space features 11 rooms, 9 bathrooms, two fireplaces, and a 3,000 squre foot wrap-around terrace with awe-inspiring views of the uptown Manhattan skyline. Guests at the launch event experienced numerous technological and lifestyle innovations and a fully functioning Diesel Only the Brave fragrance home recording studio outfitted by Blue Microphones.
"Blue's philosophy is built around modern, high-end performance with a unique and elegant style," said Tyler Barth, Director of Marketing for Blue Microphones. "Built upon these same ideals, Esquire Soho was the perfect venue for us to launch the new Encore series microphones."
Guests of the launch event were among the first to experience the superior sound of the Encore series microphones. Irish rock band Bell X1, fresh off of opening for mega-group U2 performed from their vast catalog of hits as heard on popular TV shows The O.C and Grey's Anatomy and were followed by Zee Avi, an up and coming singer-songwriter who recently had a song featured on TVs Private Practice.